After the incident in the Kerch Strait, anti-Russian hysteria flared up in Ukraine. Ukrainian President Poroshenko imposed martial law and said that Russia is preparing for a full-scale war with Ukraine. In the areas that have fallen under the IDP, defense headquarters are organized, and in Mariupol, with the help of children, dig trenches to repel an attack from the Sea of ​​Azov.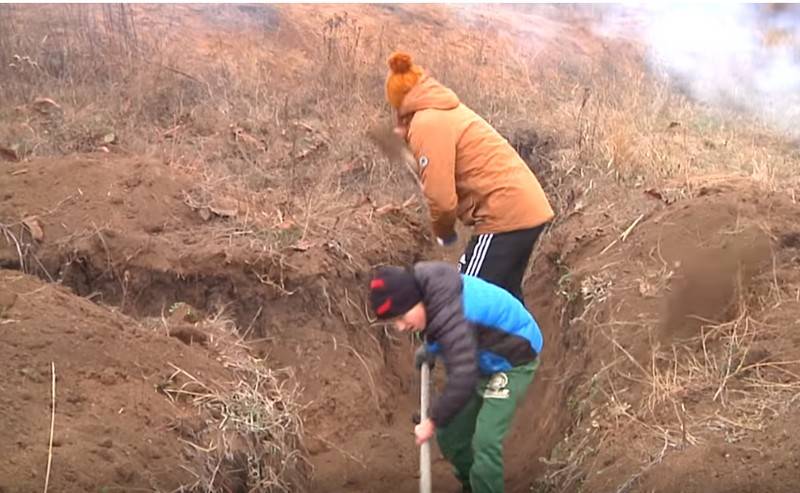 In Mariupol, for the digging of trenches on the shores of the Sea of ​​Azov attracted pupils of the Ukrainian charity foundation "Pilgrim", engaged in the rehabilitation of street children and "difficult" teenagers. Children should "help the Ukrainian military after the Russian attack in the Kerch Strait." In the story, published by the Mariupol TV channel TV7, children dig trenches under the guidance of the head of the charitable foundation, the bishop of the Pentecostal Church of God of Ukraine Gennady Mokhnenko.
In total, about 60 adolescents of middle and high school age were attracted to the creation of fortifications on the shores of the Azov Sea. On the website of the charity fund it is reported that the pastor with the children brought the fortifications to a state of readiness, and the reason for this was the "attack in the Kerch Strait of Ukrainian courts by the Russian Federation and the aggravation of the situation in the Sea of ​​Azov". Pastor Mokhnenko said that this is not a one-time action, the students of the foundation will continue to be involved in strengthening the position of the Ukrainian troops, especially since in the 2014 year they were already digging trenches.