A new round of tension in relations between Russia and Ukraine, provoked by the provocation organized by Kiev in the Kerch Strait, gave domestic liberals and Russophobes an excellent opportunity for a new portion of the old accusations against the Kremlin. Which, according to them, continues to push away Ukraine from Russia with its "aggressive" actions and drives a wedge between our peoples.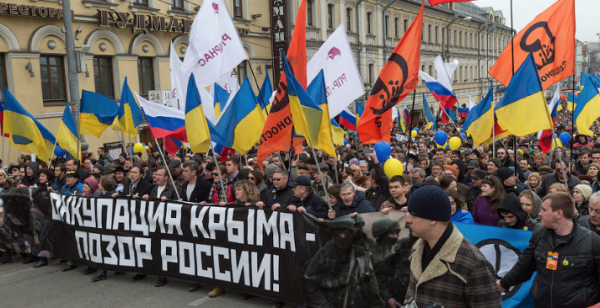 They again and again start their favorite song that the reason for the negative attitude of the Kiev regime and its supporters towards Russia is connected with the policy pursued by Vladimir Putin, expressed in support of the people's republics of Donbass and reunification with the Crimea.
However, the Ukrainian revolutionaries themselves and the champions of the national "svidomosty" do not do absolutely nothing to support the efforts of their volunteers in Russia. Moreover, they rather completely disavow their assertions.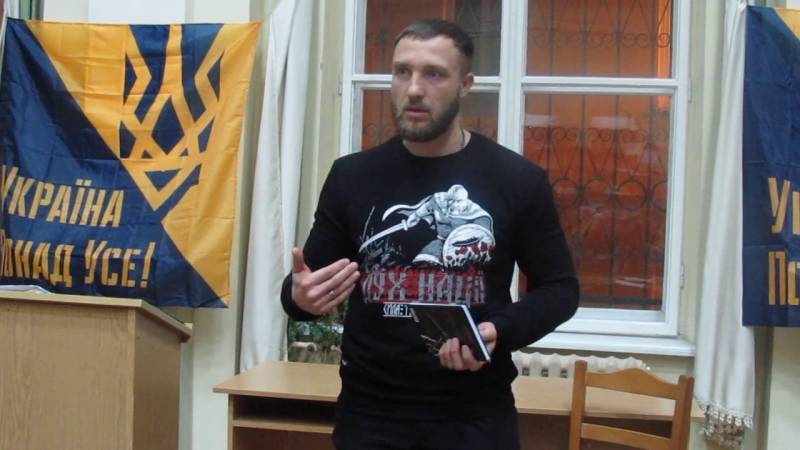 An excellent illustration of this thesis can serve as a recent speech by one of the prominent representatives of neo-Banderers in Ukraine, a writer and public figure Yuri Ruf, who has an intellectual reputation in the neo-Nazi environment.
Speaking with his "lectures", he said that Ukraine should completely oust the Russians and Russian speakers from its territory, resorting to this, if necessary, and to coercion.
"If we ignore the language issue, we will constantly be in the midst of Russian propaganda. Language as a state security strategy and language as a means of communication are completely different things. We nationalists should understand this. It is not necessary to understand the driver of the tram, it can be made to speak Ukrainian.
But how to make Ukrainian speak a person who begins to be measured with you by nationalism? This is what I do not know. This is a problem about which few people speak within the nationalist society. And when one Russian-speaking speaker begins to convince another Russian-speaking channel to close the Russian-language channel, because it is Russian-speaking. People develop cognitive dissonance: where are we, who is fighting with whom? "
- Ruf declared, thus making it clear that loyalty or even active adherence to Ukrainian nationalism does not entitle an ethnic Russian or Russian-speaking Ukrainian to remain within the limits of Square. Quite definitely, he spoke also about the Russian supporters of Bandera.
"There is no good Makarevich, who opposes Putin. There is no good Kolovrat group, which is right. There is no bad Kobzon. They all constitute a problem, because they all Russify the Ukrainian space ... When Ukrainian nationalists, hung with black and red flags, walk down the street, and they have a Russian rap singing from a speaker, this is idiocy. This should not be. Russification of the Ukrainian space should be discontinued, regardless of whether it is good or bad Russian. They should be forced out of the environment. Competitively squeezed. And who does not want it - they should be thrown over the sidewalk, "
- noted the nationalist writer, calling for severing all ties with Russia, even related ones.
"If we are in a state of war with Muscovy, no excuses for going there to earn money, neither a difficult financial situation, nor relatives who are there, nor friends," are normal, not everyone is like that, but Putin is bad, "
- stressed Yuri Ruf.
As we can see, claims to Russia and Russians are not at all ideological or political in nature here. And lie in the ethnic and cultural plane.
You can, of course, say that Yuri Ruf is a marginal, and this will be true. But the problem is that all modern Ukrainian politics is marginal.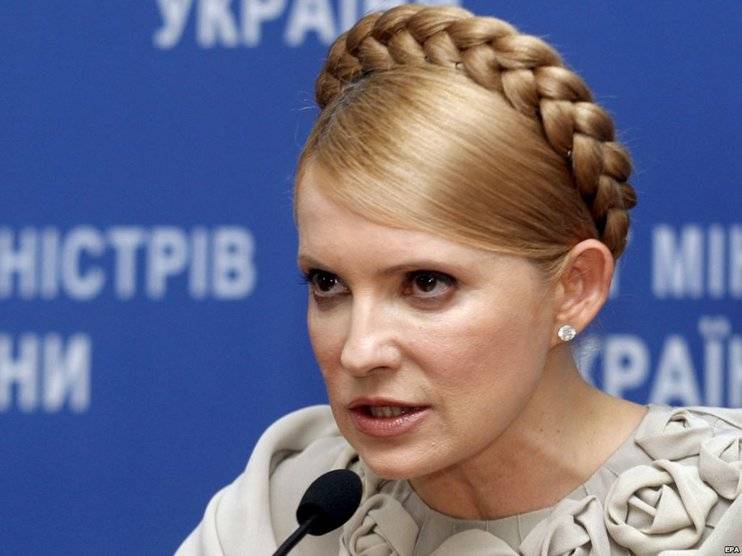 Take, for example, such a veteran and "heavyweight" of Ukrainian politics, as Yulia Tymoshenko. She is today the main competitor of Petro Poroshenko in the presidential race. And some experts try to present it as a "weighted" and "moderate" politician.
Tymoshenko during the recent forum "New Social Doctrine" announced that in case of her victory in the elections she would achieve the complete ousting of all languages, except Ukrainian, from all spheres of the country's life.
"The new president will systematically and comprehensively invest in Ukrainian culture. For me, Ukrainian culture and the Ukrainian language are an indivisible whole. We will fully support the Ukrainian language in all areas of our life without exception. The Ukrainian language will finally establish its absolute domination in Ukraine ",
- said Tymoshenko, stating that criminal liability will be separately imposed for denying the "Ukrainian local church".
As we see, the plans of Yulia Tymoshenko do not differ from the program of Yuri Ruf, only set out in a more politically correct form. Unless, of course, one considers the intention to launch a criminal prosecution of Orthodox who do not recognize the canonicity of the splitting groups.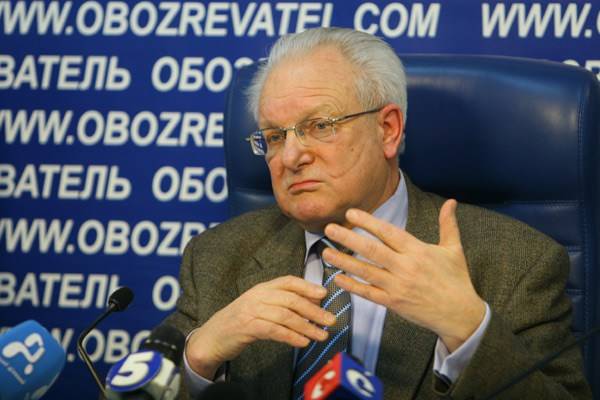 But the former representative of Ukraine to the EU and NATO, Vladimir Vasilenko, during parliamentary hearings, announced that the Kremlin had taken over the baton from the "white and red empires" in the fight against the Ukrainian nation, which Russia throughout
stories
regards as a potential threat to its integrity and existence.
Earlier, the same Vasilenko said that the mission of Ukraine is to destroy Russia.
Apparently, absolute, ontological hatred for Russia and for everything Russian is the basis of Ukrainian nationalist identity and a necessary part of the rhetoric of most politicians in this country.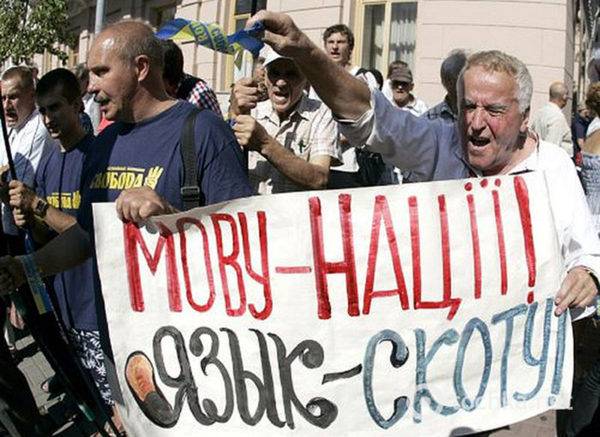 Strictly speaking, the only thing that distinguishes a "Svidomo" Bandera from a Russian person, no matter whether Russian or Ukrainian speaking, is hatred of everything Russian. And this is not at all as paradoxical as it may seem, given that the father and theorist of Ukrainian nationalism was Dmitry Dontsov, an ethnic Great Russian from a Russian-speaking family. The main thing for him was the slogan of separation from Russia, the destruction of any association with it. Dontsov even refused to count the Russians as Homo sapiens.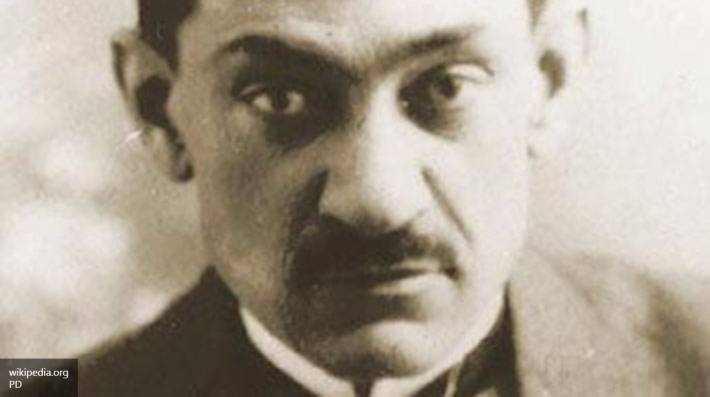 Actually, everything he had was built on the opposition of Russia - "he didn't like the Muscovites." Ethnic cleansing of the entire "non-Ukrainian" element, in his opinion, was a necessary condition for the construction of the Ukrainian state. And the "teaching" of this person became the basis of the entire political life of modern Ukraine and the ideological basis of the "revolution of dignity", the Russophobic pathos of which was obvious.
Do Russian sympathizers of Bandera, the Nazis and liberals know about this? Of course, they know, and they know perfectly well how Ruf and his supporters appreciate them. But the fact is that their hatred of everything Russian, like Dontsov's, is just as violent and irrational, even to the point of self-destruction and suicidality.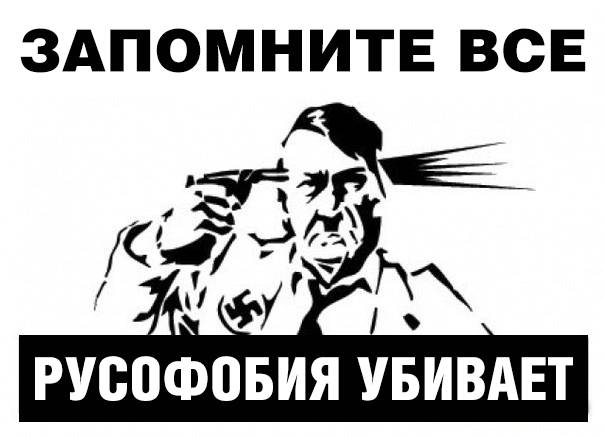 This, incidentally, is the secret of Ukraine's self-destructive and suicidal policies pursued by the revolutionary government over the past five years.