The statements of the Ukrainian servicemen made after the arrest of the artillery boats "Berdyansk" and "Nikopol" and the raid tug "Yany Kapu" are discussed. Video released by the Public Relations Center of the FSB on the eve.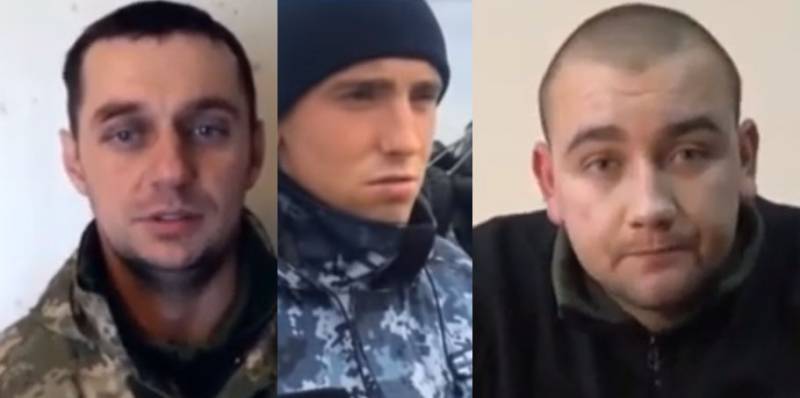 In Ukraine, as previously reported, noted that the Ukrainian sailor pronounced the text prepared in advance, which is noticeable on facial expressions and quick pronouncing of words. Roller:
But the fact is that no one is going to argue about the reading of the text by this Ukrainian soldier "on piece of paper." The fact is different: the personnel Ukrainian soldier who took the oath to his "independent" state behaves rather cowardly.
Representatives of the Ukrainian Navy and the Security Service of Ukraine, who took part in a blatant provocation profitable to Petro Poroshenko, themselves demonstrate their "best" qualities. By the way, the former Minister of Defense of Ukraine Kuzmuk announced this on the eve. Sailors lowered the Ukrainian flags from the ships of the naval forces, which Kuzmuk called a disgrace for the Navy of the Armed Forces of Ukraine and for the whole of Ukraine. According to the former official of the government of Ukraine, military sailors had to fight, even if they did not have ammunition - "go to the ram." The same Kuzmuk did not get an answer to his question about who gave the order to carry out a provocation, if the armored boat "went without ammunition, knowing the presence of the enemy."
Instead, the soldiers, frankly demonstrating relief from the situation with the detention by the Russian border guards, are clearly ready to do anything, until the proposed text is pronounced. Whether this behavior is worthy of a real soldier who claims to be the representative of "one of the strongest armies on the European continent" is a rhetorical question.
Other speeches (two more natural from a psychological point of view than the one presented above) (in the end of the video, repeat the statement from the serviceman mentioned above):
Comment psychologist:
Psychology of behavior of Ukrainian sailors suggests that they are all quite satisfied with their current position. Probably, realizing that they were not sent to ensure that they calmly passed through the Kerch Strait without notifying the Russian side, the servicemen realize that everything could have been much worse for them in the end. They are clearly not ready to assess themselves as traitors to the interests of Ukraine, who surrendered without a fight. And all because they have no guidelines on how to act in such a situation. They see that the interests of Ukraine are surrendered first of all to the power that is in Kiev, and this, in their understanding, fully justifies the actions they have committed, including the actions after the arrest. Yes, they could not make a fairy tale about Ukrainian "cyborgs" come true, which indicates the degree of demoralization in the Ukrainian troops.