Personnel appeared in the network with the Ukrainian artillery battles Nikopol and Berdyansk and with the Yany Kapu raid tug which, after being detained by Russian border guards, are in the Kerch port. The ships of the Ukrainian Navy are stationed at the pier of the Coast Guard. A short video was published in the Twitter microblogging channel RT. Video available
link
.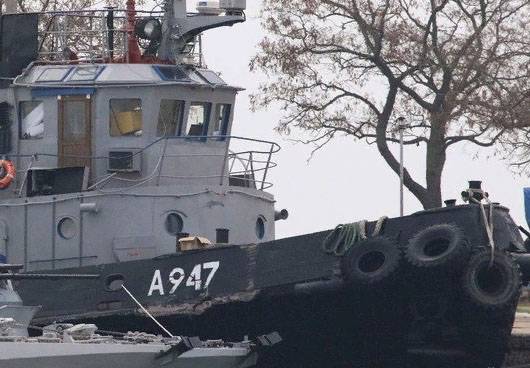 In the frames, you can see that the right side of the tugboat "Yana Kapu" after the implementation of the pile (originally called a ram) by the Russian coast guard ship was damaged. Visually, they are insignificant. A slight deformation and an erased layer of paint on the board at the point of contact of the naval tugboat and the Russian ship.
Against this background, from the cities of Ukraine there are reports of a new wave of anti-Russian radical actions. So, in Lviv, in front of the Russian consulate, several dozen nationalists decided to set fire to the tires. The action was called the "protest action against the aggression of Moscow."
According to the situation, which is connected with the Ukrainian provocation in the region of the Crimean peninsula, the heads of foreign states express themselves. Thus, official Ankara spread a message in which it calls on the parties to abandon the escalation of the conflict.
This statement was "seized upon" by the Ukrainian media:
We call for avoiding steps that could jeopardize regional peace and stability, respect international law and avoid exacerbating tensions, while maintaining common sense and restraint.
At the same time, in Ukraine, for some reason, they do not consider that the same appeal was sent to Kiev, which sent its artillery boats to carry out provocative actions to violate the Russian state border.
Negotiations of Russian border guards with Ukrainian sailors. The Ukrainian side requests assistance:
Official confirmation of the authenticity of the publication of negotiations with the Ukrainian crews (teams) in the network yet.