The ex-sideler, pardoned by the president, after meeting with the investor-swindler Bill Browder, published a text version of his speech at the conference with the telling title "Russia instead of Putin". We are talking about Mikhail Khodorkovsky, who described his performance first as "provocative" and then changed the characterization to "non-provocative". Material on
page
in Facebook.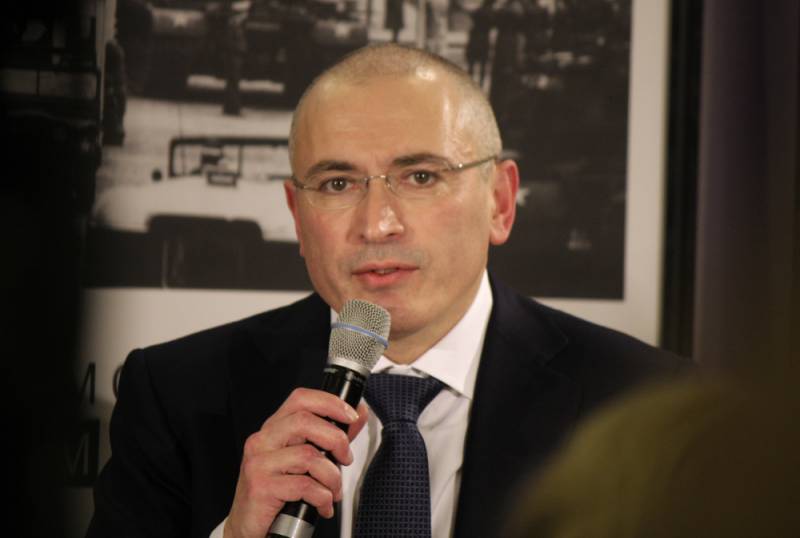 According to the ex-head of Yukos, Vladimir Putin has been in the Kremlin for more than 20 years, and he is unlikely to be pleased with new discoveries. Khodorkovsky further asks a question about what awaits Russia after Putin leaves the presidency. At the same time, he calls the president's entourage "Kremlin lads, which will have little chance" to remain with their own.
Khodorkovsky said that he is not a liberal in the sense that is customary in Russia. According to him, he is in favor of a strong government, but against the "state - night watchman."
Khodorkovsky on the current government and claims to the head of state:
My claim to Putin is that he has a weak, helpless, corrupt government.
This statement could be taken into account if one were distracted from what Mr. Khodorkovsky did - a man who was serving a sentence for committing serious crimes, including those associated with the enormous scale of corruption. In the light of this, the following statement by the fluent ex-oligarch, who "promised" not to be involved in politics after the president's pardon, looks at least ridiculous:
I am for a rule of law with an independent court and the rule of law.
Further, Khodorkovsky, trying to emphasize his "toughness", states that for Russia he does not support the concept of the immediate introduction of absolute democracy throughout the territory.
The former head of Yukos:
The country is big and different. Either federalism, the rule of law and diversity, or an attempt to force unification and a new round of authoritarianism. My claim to the current government is not inadequate democracy, but in the rejection of the rule of law and irremovability.
Further, Khodorkovsky reports that he is in favor of big business, and that he has a claim to the Kremlin for preserving "oligarchic capitalism" (quotation marks are supplied by Khodorkovsky himself).
Khodorkovsky:
The problem is not big business and not even state property as such, but monopolization, which once ruined the economy of the USSR.
And then quite unexpected from Khodorkovsky:
I am for a strong army. We do not live in a perfect world.
At the same time he adds the words that today's Russia is characterized by: "careless animation", "mercenaries under the guise of PMCs", "idle GLONASS" and "destroyed pseudo-Avianos".
Further, Khodorkovsky clearly decided to saddle the painful topic, declaring the transfer of land to China, negotiations on the Kuril Islands with Japan. This he called the real "pseudo-patriotic" price for the destruction of relations with the West.