The first sample of the Mi-38T helicopter, manufactured at the Kazan Helicopter Plant by order of the Russian Ministry of Defense, flew under the control of test pilots of the Moscow Helicopter Plant named after Mile The flight was carried out within the framework of the program of preliminary tests, the press service of the Ministry of Industry and Trade of the Russian Federation told the Military Review.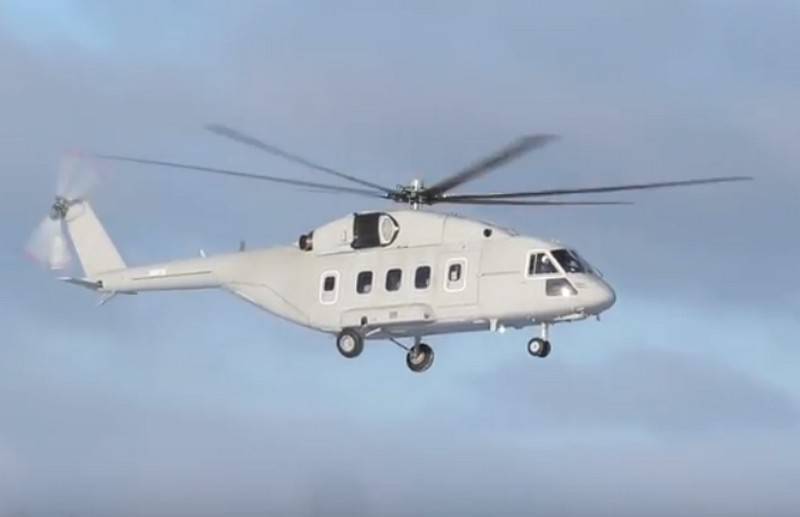 The helicopter was created on the basis of civil Mi-38 and is designed to solve transport and landing tasks. In addition, the Mi-38T can be used as sanitary. It is possible to increase the range by installing additional fuel tanks. The first deliveries of vehicles of this type to the troops are planned to begin in the 2019 year, after joint flight tests, which will result in further purchases of MI-38T helicopters for the needs of the VKS within the framework of the state armament program of 2018-2027.
According to Denis Manturov, Minister of Industry and Trade of the Russian Federation, Mi-38 type helicopters have long been in demand in Russia. They will occupy a niche in the oil and gas services, as well as in a number of civilian industries. Its further promotion outside the Russian Federation is not excluded.
The Mi-38T has a high degree of automation, the helicopter is capable of performing automatic flight along a given route and approach, stabilization of the spatial position in any flight mode, as well as automatic hovering. It is equipped with new highly economical TV7-117В engines of domestic production, an integrated digital flight-navigation complex with data display on five LCD displays, an explosion-proof fuel system.
Based on the transport version of the Mi-38T, it is planned to manufacture specialized helicopters, including the "Arctic" version.