The terms of the repair of the large anti-submarine ship Admiral Chabanenko are shifted to the right again. According to Interfax, citing an informed source in the shipbuilding industry, the reason for the shift was once again the lack of funding.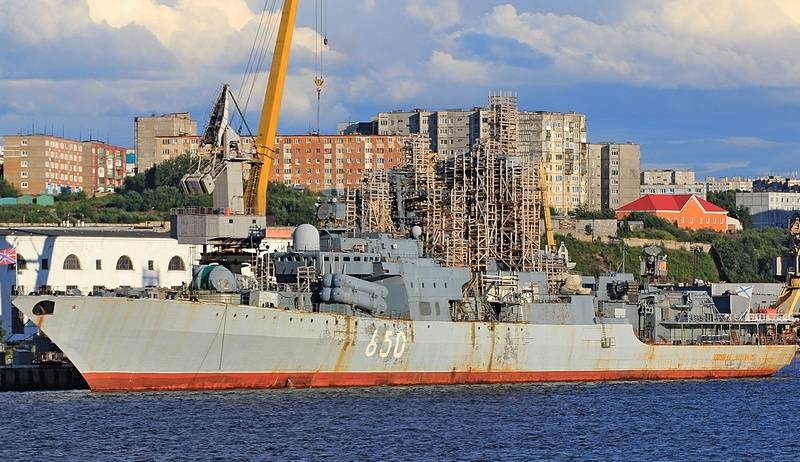 According to the source of the publication, the lack of funds to repair the ship forced to move the deadline for its delivery
the fleet
for the year 2022-2023. At present, BOD is located at the 35th ship repair plant - a branch of the Zvezdochka Ship Repair Center, where it was delivered for repair and modernization in April 2014. It was assumed that the ship would be handed over to the fleet in 2016, then the delivery of the fleet was shifted to 2017, then still to the right, and now it is announced about 22-23 years.
"Admiral Chabanenko" - a large anti-submarine ship (BOD) Ave 1155.1, developed by the Northern PKB under the leadership of V.P. Mishina The board number is 650. Named in honor of the Soviet admiral Andrei Chabanenko. Designed to solve the tasks of fighting the underwater and surface forces of the enemy, air defense, support the landing of their landings, and is able to act as part of the naval formation, and autonomously. Laid at the Yantar Baltic Shipbuilding Plant (Kaliningrad) in 1990 year, from which the stocks were lowered in 1992 year.
Displacement 7,4 thousand tons, length - more than 163 meters, width - 19 meters. Travel speed - up to 30 nodes. The range of navigation BOD - 3 thousand miles, autonomy - 30 days.