American scientists from the Massachusetts Institute (MIT) created the first unmanned aircraft equipped with "air" ion engines, reports
RIA News
.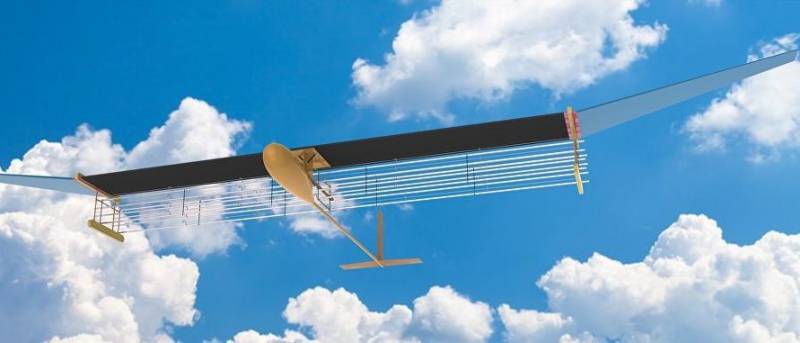 Tests of the aircraft took place in the laboratory. The car stayed in the air for 12 seconds.
According to Professor Stephen Barrett, this is the first aircraft that was able to take to the air with the help of an engine that has no moving parts. A successful experiment opens the way for the creation of completely silent devices that do not emit exhaust gases.
The idea of ​​an ion engine is not new: American and Soviet scientists began to deal with this topic in 1960. During this time, several vehicles with similar engines (for example, the Soviet probes "Meteor" and "Cosmos") were launched into space.
However, all developments have the same advantages and disadvantages: they are extremely economical, but the thrust generated by ion engines is extremely small. " Because of this, the acceleration and deceleration of the spacecraft occurs very slowly, which makes them an inconvenient means of transporting people to Mars or other planets.
But according to Barrett, scientists from MIT managed to discover the method of air ionization, which made it possible to increase the efficiency of these engines by "several orders of magnitude."
As physicists have discovered, a wing covered with a fine grid of electrodes can cause a "chain reaction" in the air, forcing free electrons to collide with neutral molecules and "knock out" other particles from them, filling the surrounding space with a mixture of many ions and uncharged particles . Being inside the electric field, charged particles begin to move in the direction of the opposite pole, colliding with neutral particles and forcing them to move in the opposite direction. There will be the so-called "ion wind", which has a fairly large thrust force.
Using this technique, scientists have increased the efficiency of the ion engine from one to 2,4%. An aircraft weighing 2,5 kg and with a wingspan of 5 meters was able to fly 12 seconds to 55 meters, while spending about 900 watts of electricity.
The participants in the experiment are confident that in the future these indicators will be repeatedly improved.