The Argentine Navy published a photo of the San Juan submarine found at a depth of about 900, which disappeared last November and has been searching for all this time. Recall that the Argentine Navy submarine discovered an American deep-water craft.
В
microblogging
Argentine naval forces show pictures showing the submarine hull parts destroyed by the explosion.

The propeller of the submarine was found lying apart from its hull, which indicates the strength of the explosive impact. Earlier it was reported that the death of the submarine was due, most likely, due to an explosion in the power plant "San Juan".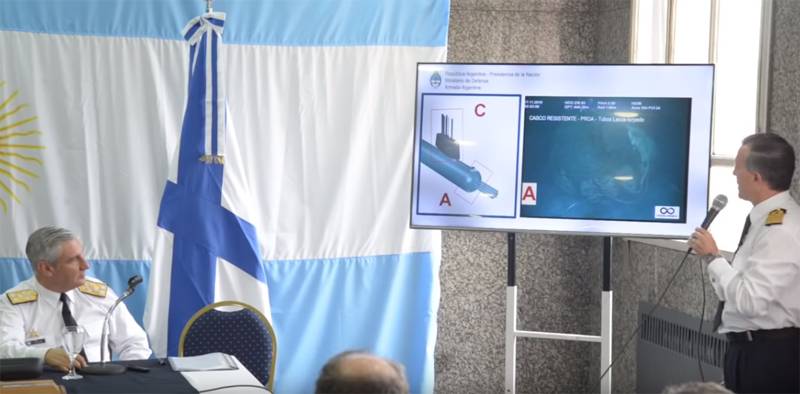 In connection with the discovery of a combat underwater ship in Argentina, a three-day national mourning has been declared.
Meanwhile, in Argentina itself, a conspiracy view was made that the Americans and British allegedly had long been aware of where the death point of the submarine that made the maritime transition to the Mar del Plata base was located. And they didn't "declare" this in order to avert suspicion from themselves. They announced the discovery on the day of the anniversary of the disappearance of the submarine and a few days before the G-20 summit in Argentina. However, not many Argentines were ready to believe in this conspiracy the individual media.
Recall that at the base of the Argentine Navy, where the submarine was supposed to arrive, there were actions of relatives and close sailors, during which they called on the command to intensify the search and report on the fate of the crew. On the "San Juan" during the transition were 44 person. They all died. Now there is talk about the possible conduct of the operation to raise the bodies of sailors for burial. Many Argentines believe that raising bodies is not necessary, since the Atlantic actually became the resting place of the sailors of San Juan.