A little "crazy", but at the same time, the American analyst Joseph Trevithick called the Russian complex TMS-65U with the VK-1 engine for special processing of military equipment called very effective.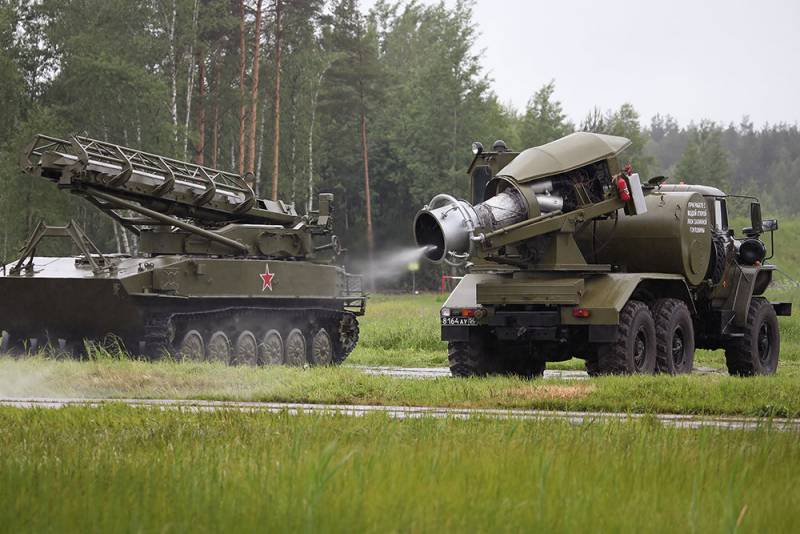 The reason to remember the unusual system was a video published by the Russian Defense Ministry on the 100 anniversary of the troops of radiation, chemical and biological protection (RCBZ).
The Russian military has different equipment and individual devices for cleaning machinery and personnel from chemical and biological contaminants. Among them, a special place is occupied by a complex based on the Ural vehicle - TMS-65U, using the VK-1 jet engine, cites the words Trevitika
Rossiyskaya Gazeta
.
TMS-65U is a kind of car wash on the battlefield, he notes. The principle of its operation is simple: spraying a disinfectant fluid supplied to the engine nozzle. The operator can control the jet. Turning the engine in different directions, he achieves a more thorough processing technology.
According to the analyst, the cleaning process is much faster than if people armed with brushes and hoses were involved in this. He added that the car has a decent supply of fuel for a jet engine - about 1000 liters.
In addition to cleaning, TMC-65U can also perform another function - to install a smoke screen. In this case, instead of the disinfecting liquid, for example, fuel oil can be poured into the tank.
Without special additions, this "cloud" will not hide from infrared optics, but it can hide several units from visual observation, he explains.
Trevitik recalled that at the end of 1940, the VK-1 engines were put on MiG-15 fighters. Then they were equipped with MiG-17 and IL-28 aircraft. After the write-off of this technology in the USSR, an excess of VK-1 engines was formed, so they began to be used as part of non-standard devices intended for clearing snow, extinguishing fires, etc.
And today he did not find any signs that in the near future the Russian Ministry of Defense is going to get rid of TMS-65U. Undoubtedly, these complexes play an important role in the Armed Forces of Russia, Trevithik concludes.