Many noted that Vladimir Putin at the celebrations in Paris on the occasion of the 100 anniversary of the end of World War I, having greeted Donald Trump, made him a sign with his thumb. There was a lot of speculation about this, from "that now everyone is conquering" to jokes: the presidents are conspiring. Putin praised Trump's efforts to drain the "Washington swamp" and counter Congress.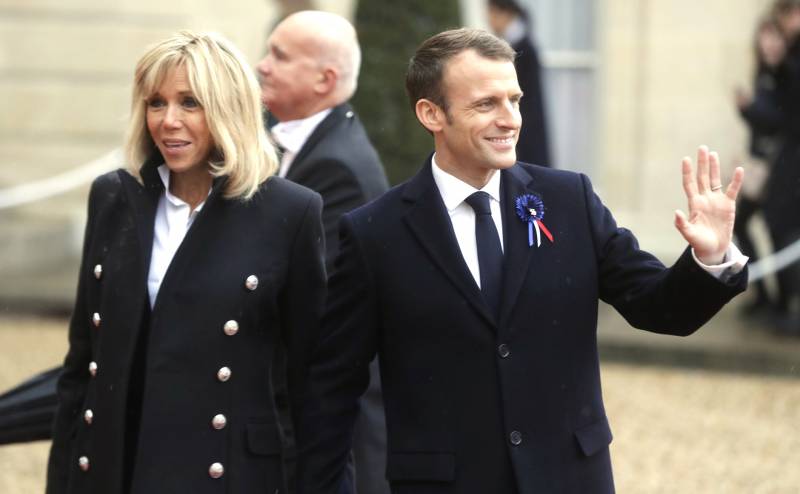 Perhaps this is not worth anything, and Trump, when meeting with Macron, pulled his thumb up, probably showing everyone that he had everything okay! However, at this time, Macron pulled his hand, embarrassed, he also stretched his thumb up ... Here it smells no longer signs, but the conflict between them. And there are reasons for this.
Trump could deliberately not notice the hand extended to him, because he had reason to be displeased with Macron. In Paris, Macron came up with the idea of ​​creating a pan-European army, and that's not all! Among the potential opponents of this army, Macron mentioned the USA along with Russia and China! But that's not all!
Macron disrupted the scheduled meeting of Trump and Putin, allegedly she could overshadow the celebrations organized by France. And then he also spread the presidents away from each other, so that they could not spread a word across the table. When Macron did get to Trump's hand, he shook it with all his might, as if trying to tear it away, which was noticed by the journalists.
In general, the idea of ​​a pan-European army belongs to Jean-Claude Juncker, President of the European Commission and a protege of Germany, and therefore German Chancellor Angela Merkel, who has become today a "lame duck" and faded into the background of European politics. And the French President Macron came to the fore, and again with the idea of ​​a pan-European army, which caused Trump's obvious displeasure, and not just him alone in America, that is, we can talk about the deterioration of US-European relations. Why does Macron suddenly remember the all-European army? Yes, even in peak USA? This is a riot on a transatlantic ship!
We continue the conspiracy of our thoughts. For example, at a recent meeting in Helsinki, Trump and Putin agreed on something big. In Paris, they wanted to "check the clock," but Macron intervened and did not let them do it. And Trump had to resort to a non-verbal language: without noticing Macron's outstretched hand, pull the top of his thumb upon arrival in the glorious city of Paris. Maybe really for Putin?
Vladimir Putin flew to Paris last and saw, probably, this Trump sign. During the general meeting of world leaders, he greets Trump, and then also raises his thumb. They say, I understand, everything goes as we agreed in Helsinki? What could negotiate in Helsinki Trump and Putin, the United States and Russia?
At this level ... perhaps about Europe. And Europe somehow found out something about it or felt it intuitively, and now Macron defiantly picks up Trump with the idea of ​​a common European army and does not let him meet Putin. Why? Europe is not involved in the negotiations between the US and Russia! And the old Europe in the person of Macron and Merkel dislikes it very much: they suspect that Trump and Putin do not only agree on the limitation of strategic weapons!
London, this old European provocateur, was also worried. Premier Theresa May announced a "different policy" towards Russia. But worse is nowhere. Then where will this "other policy" go?
Everyone in Paris noticed that Trump did not notice Petro Poroshenko, did not greet him, although they are familiar, and the Ukrainian question really stands in the world. It is difficult not to conclude from this that Trump leaked at least Poroshenko, and possibly the whole Bandera Ukraine. To whom? To whom can it be drained apart from Moscow? And Putin, in response, gives Trump a sign with his thumb!
But what about Trump Ukraine? Another thing is Europe! In the framework of the agreement on Europe between the United States and Russia, Ukraine can go except for appendages, but what kind of agreement can there be between Trump and Putin over Europe?
Trump is a businessman, and he could just say in Helsinki to Putin: Europe is American vassals, and we have to cut them, Vladimir, and Russia must leave the European energy market. What will you pay? Putin could ask about this. The United States will not object if Russia regains its influence not only in Ukraine, but in the entire post-Soviet space. In countries adjacent to the former USSR, we will create a demilitarized from strategic
weapons
zone, Donald Trump could answer. It is worth thinking about this, Vladimir Putin could have said this proposal.
Such a Trump plan is quite consistent with the great US game of driving a wedge between Russia and China: Moscow, after all, must be interested in something substantial. On the other hand, Russia has where to leave the energy market of Europe - to the markets of Asia, primarily to China. Moreover, the commissioning of the gas pipeline SP-2 is not critical for the global withdrawal of Russia to Asia, because the supply of liquefied gas from the United States to Europe has not yet been established. SP-2 will simply temporarily replace the Ukrainian transit: it is even necessary for large-scale deliveries of liquefied gas from the USA to Europe. But then SP-2 can be frozen, for example, under the pretext of US sanctions. Russia will redirect European gas volumes to Asia.
As a result, Europe falls into complete dependence on the supply of liquefied gas from the United States and energy in general; this is a very good business for the US Russia is restoring its former Soviet sphere of influence. For this, Putin can make concessions to Trump in Europe, retreating to the gas markets of Asia.
At the same time, the transatlantic partnership of America and Europe is put at risk, signs of which we saw in Paris, but for the USA this is uncritical. For the United States, a break in relations with China is critical: it will cause an economic crisis in America. But the deterioration of US relations with Europe will not cause any economic crisis in America, even along with the all-European army. Nowhere Europe from America is not going anywhere!