In the state corporation Roscosmos presented materials on the prospects for the development of space exploration tools. On the official page of Roscosmos in
Facebook
A model of a promising spacecraft with a distinctive feature is presented. The peculiarity is that the power plant of such an apparatus is a nuclear reactor on board.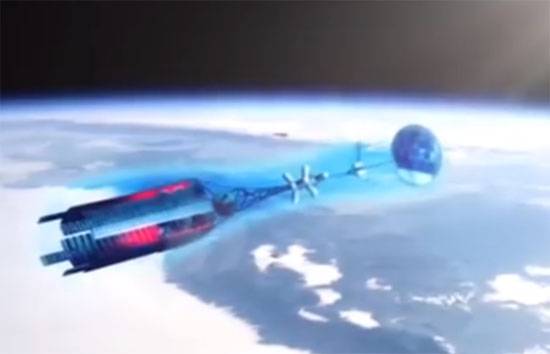 Funds for the project have been allocated. And, if you believe earlier publications, by the end of this year the prototype engine (YASU) of the spacecraft should already be ready.
The video itself with the presentation of a model of a spacecraft with a nuclear power plant is timed to coincide with the 85 summer anniversary of the Center. Academician Keldysh.
From the presentation material:
Today, the Keldysh Center is working on the development of spacecraft with more powerful engines - nuclear installations of a new class, for which work no sunlight or solar batteries are needed.
Experts have to solve the most difficult task of cooling a fast-neutron nuclear reactor. It is noted that we are talking about a gas-cooled system. The heat carrier in such an installation is a special helium-xenon mixture. An important parameter of such a mixture is thermal conductivity, which directly depends on temperature and concentration of helium in the mixture.
The newest Russian device, according to plans, should be used in deep space. The RSC Energia will build the spacecraft itself.