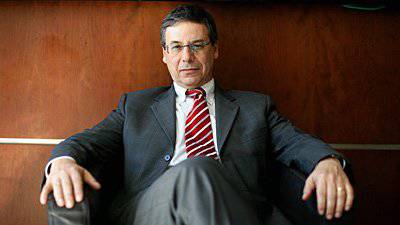 Israeli Deputy Foreign Minister Dani Ayalon is one of the most interesting and controversial figures in Israeli diplomacy and politics. An experienced diplomat, a former Israeli ambassador to the United States, and now a deputy foreign minister and a deputy from the Our House is Israel party, Ayalon has repeatedly attracted media attention with his statements and actions.
One of the most famous incidents involving Dani Ayalon was his conversation with the Turkish ambassador in 2010 after a series of anti-Israeli demarches of Turkey. Then Ayalon ordered to remove the Turkish flag from the table from the table, he sat in a high chair, and sat the guest on a low sofa to "indicate Turkey her place". Not so long ago, Dani Ayalon made an official visit to Georgia, and this trip was a formal occasion for an interview with VK.
- Mr. Ayalon, what explains the fact that lately, Israeli high-ranking officials and politicians have often come to the Caucasus in general and to Georgia in particular?
- First of all, by the fact that modern Georgia is an unusually friendly country to Israel, with which we are united by common democratic values, a common approach to solving a number of important problems of world politics. In addition, we should not forget that in Georgia there is still quite a large and one of the most ancient Jewish communities in the countries of the Diaspora - Jews live in Georgia for at least 2600 years. Cultural and economic ties with Georgia are developing very intensively; Recently, they have added contacts in the field of tourism, but we believe that the potential of relations with this country has not yet been realized. In addition, as you remember, two major Israeli businessmen were arrested some time ago in Georgia. Although a lot of time has passed since their release, the damage that this incident has caused to Israeli-Georgian relations has not yet been fully repaired. My visit to Tbilisi was largely to completely eliminate this damage and put down the folder with this episode of ours.
stories
to archive. Another goal of the trip is to support and encourage our ambassador to Georgia, Yitzhak Gerber, who, as you know, became the object of an assassination attempt by Iranian agents infiltrated into Georgia. I myself know how important such visits are for embassy staff; how important it is to hear greetings from home, transmitted not by phone or fax, but in person. And, of course, there were a lot of meetings on political topics, including with my Georgian counterpart and the Minister of Information.
- What was the main topic in these conversations? Theme of the Iranian threat?
- We discussed a wide range of issues, including the situation in the Middle East as a whole and, of course, the Iranian problem. As is known, Georgia has joined the sanctions against Iran and our positions on this issue practically coincide.
- On the part of the Georgian leadership, were there any specific requests for Israel?
- What do you have in mind?
- I mean the tense Russian-Georgian relations and the hopes that Georgia may still have with the military help of Israel ...
- No, this is impossible. From the very beginning, we made it clear to the current leadership of Georgia that good relations with this country are extremely important for us, but good relations with Russia are no less important for us, and some cannot develop to the detriment of others. Of course, the problem of Abkhazia and South Ossetia surfaced in our conversations. Our position on this conflict is very clear - we support the preservation of the territorial integrity of Georgia, that is, the preservation of Abkhazia and South Ossetia in its composition, and we hope that this tangle of contradictions will be resolved peacefully.
"If we are talking about Russia, I cannot ask a question about when President Putin's visit is in Israel." At first, some informed sources assured that Putin would arrive in Israel literally a couple of weeks after the inauguration. Now the newspaper Yediot Ahronot claims that the visit will take place at the end of June and will last exactly one day. Who to believe?
- I can not say anything definite about this. The media did write a lot on this topic, but in all cases it was about newspaper ducks. In fact, it is too early to talk about it, there are no final dates or program of the visit yet. Of course, the president of Russia is a welcome guest. He received our invitation, and if Putin arrives, we will give him a proper reception.
- So, the final date of the visit of President Putin to Israel?
- In any case, I have no right to talk about it ...
"Clausitz said that war is a continuation of diplomacy by other means. You are one of the most experienced Israeli diplomats. What do you think about Iran - has diplomatic means exhausted itself in this case or do you still have a chance to achieve the desired result with their help?
- Our position on Iran is also very clear: we can not allow Iran to have an atomic bomb. Such a turn of events will threaten the destruction of not only Israel, but also other countries of the Middle East, and by and large, the whole world. This, by the way, is understood by almost everyone, including the Arab countries. The dispute goes around how to prevent Iran from creating its atomic bomb. Our requirements were clearly defined: it is necessary to achieve a complete cessation of uranium enrichment by Iran; collect the uranium, which they managed to enrich in violation of all international norms and acts; destroy nuclear facilities to make it impossible to enrich Iran in the future and establish a tough international inspection to meet all these requirements. We cannot agree to less for a number of reasons. First, because if you allow Iran to enrich uranium to a certain level, it will allow them to easily deceive the world community and go beyond the scope of the resolution. It's like having a pregnancy - you can't be half pregnant. Either you enrich uranium or not. Secondly, the Iranian nuclear program itself constitutes a violation of all international laws and obligations that Iran has signed, as well as four Security Council decrees on its nuclear program. Thus, it is extremely important to understand the following: the international community is not negotiating with Iran, since it is not negotiating with the criminal whether he can continue to commit crimes or not. The world makes specific demands on Iran and insists that it fulfill them.
- Is it possible, in your opinion, to achieve the fulfillment of these requirements by diplomatic means or have they already been exhausted?
- It should be understood - Iran is now on the verge of chaos; complete collapse of both the economy and society and political structure. Whatever the Iranian leadership, it cannot fail to understand this. And it is precisely the weakening of Iran that inspires hope that it will submit to the demands of the world community. The decisive round of conversation (namely, conversation, calling for an answer, and in no way negotiations!) With Iran, apparently, will take place in Moscow. Let's wait for June. But if the pressure on Iran in Moscow fails, we will assume that all options are open to us. Any decision will be a lesser evil compared to the situation that would arise if Iran's nuclear
weapons
.
- In the last week, Turkish media reported that the Turkish Prosecutor's Office had already filed indictments against the former leadership of the Israeli army in connection with the Mavi Marmara incident. The same media claim that the prosecutor's office requires years of imprisonment for Israeli 18 000 generals. Does the Israeli Foreign Ministry intend to somehow respond to these messages?
- First of all, neither the Ministry of Foreign Affairs of Israel, nor our embassy in Turkey has received so far any demands from the law enforcement agencies or any other structures of this country. Everything that we still know, we know from the newspapers, and the newspapers, sorry, cannot be trusted. Therefore, no official reaction has not yet followed. At the same time, if this is true, then this is more than serious. Turkey has no grounds and no legal basis for holding such a court; we are talking exclusively about political action in order to harm Israel's image. Of course, we will not accept this development. Of course, we will be able to ensure the inviolability of our military personnel in the reserve and will give attempts to bring them to court a reliable rebuff. But I am almost sure that Turkey will not take such a step, since, I repeat, it has no legal basis. The assault "Mavi-Marmara" and the actions on this vessel of the Israeli soldiers were in full accordance with the international law of the sea, and this was unequivocally confirmed by the UN commission headed by J. Palmer. From a legal point of view, we are fully protected here, so Turkey's attempt to conduct such a process will be rejected by the world community.
- Do you think there is a chance for the normalization of Israeli-Turkish relations in the near future?
- The answer to this question is not with us now, but with the Turks. We have done everything that was possible on our part. I think that such a chance exists, since by and large both sides are interested in such a normalization. In addition, Turkey, as a member of NATO, is under pressure from this organization, which is demanding that it establish relations with Israel.
- Tell me, do you not feel your personal responsibility for the deterioration of relations with Turkey? After all, it was after you publicly humiliated the Turkish ambassador that Turkish-Israeli relations were completely damaged ...
- Nothing like this! Our relations with Turkey began to deteriorate rapidly in 2008, when Turkish Prime Minister Erdogan publicly humiliated our President Shimon Peres at a conference in Davos. It had nothing to do with me. When, in order to protect our children, we had to carry out Operation Cast Lead in Gaza, the Turks openly switched to anti-Israeli positions and began to shoot frankly deceitful anti-Semitic TV shows like Wolf Valley. And this again is not personally connected with me.
- So do you still feel personally responsible for the deterioration of relations with Turkey or not?
- The deterioration of Turkey's relations with Israel is only part of the overall picture of the deterioration of its relations with the West as a whole. Remember that back in 2003, the Turks did not allow the Western coalition to use its airspace to attack Iraq. Recall that Turkey a year and a half ago refused to support sanctions against Iran. Recall the latest Turkish threats against Cyprus. Thus, the "Turkish problem" is actually much broader than you see from your office in Tel Aviv.
- And yet I will repeat my question: do you really not regret your act towards the Turkish ambassador to Israel?
- To humiliate anyone else is not in my character. When I realized that my behavior was perceived by the ambassador as a personal insult, I had no problem calling him to apologize and write an apology letter, in which I explained that in no case did I want to offend him personally. But Turkey's demands to apologize for the actions of our soldiers and officers on the Mavi-Marmara, when we were in our right and came across violent resistance from those on the ship ... Islamic activists are unacceptable for us and will never be acceptable.
Peter Luchimson, Israel.