The main military department reports on how the repair of the largest combat ship of the Russian Navy - aircraft carrier Admiral Kuznetsov - is progressing after the float of the PD-50 floating boat. Deputy Minister of Defense Alexei Krivoruchko told the media that a special commission assessed the damage caused to Admiral Kuznetsov in the accident with a floating dock at the 82-6 ship repair yard.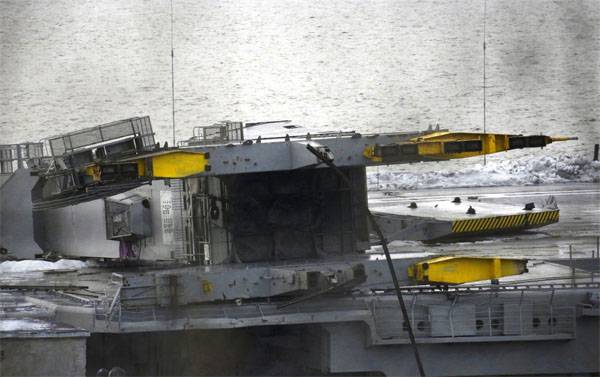 Damage assessment was carried out on 35-m ship repair yard, where the aircraft carrier was transferred to continue the repair and modernization works. Krivoruchko actually confirmed the statement, previously made in the United Shipbuilding Corporation. According to him, the refinements made to the schedule will not affect the timeline for the completion of all those works that were provided for by the contract.
The commission confirmed that the warship had received damage to parts of its deck and hull. All these damages are associated with the fall of tower cranes, which were installed on PD-50.
It should be noted that during the accident on the night of October 30 four people suffered from hypothermia - were in the water. One person is still missing.
Earlier in the press there was information that the lifting of semi-heated PD-50 can be waived. It was noted that the cost of the entire operation may end up being comparable to the acquisition of a new floating dock. One of the main difficulties is that the float is located on the edge of a sea pit to a depth of 100 m. Any attempt to level it can lead to a float in this pit together with lifting equipment.