The interdepartmental commission will consider the possibility of transferring the floating dock PD-190 from Novorossiysk to Murmansk to replace the sunken PD-50, which was used to repair the aircraft carrier Admiral Kuznetsov. It is reported by Interfax, citing a source familiar with the situation.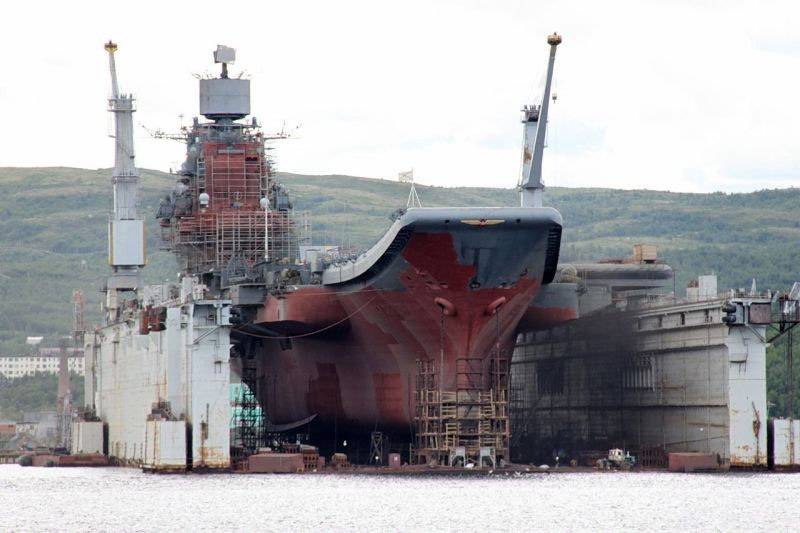 According to the source, specialists from the interdepartmental commission will soon visit Novorossiysk to study the possibility and feasibility of transporting PD-190 to the north of Russia. Such an operation is possible, but the fact is that currently the ship is preparing to dock it to the cruiser-museum "Mikhail Kutuzov", which did not go through the docking during 20 years and when towing to Sevastopol, the ship could be flooded aft compartment. In this case, it is possible to prepare the dock for the inter-fleet crossing with simultaneous work on the cruiser-museum.
Earlier it was reported that during the withdrawal of the Admiral Kuznetsov from the floating dock PD-50 at the 82-th ship repair plant there was an emergency situation, as a result of which the dock sank. The PD-50 was the only floating dock in the north of Russia capable of receiving heavy ships, and the Admiral Kuznetsov will need a new docking in the summer of next year.
At present, diving operations are underway in the flooded area of ​​the dock, the number of divers has been increased due to the addition of divers from the Federal Agency for Sea and River Transport (Rosmorrechflot).