The Syrian opposition has decided to make a rebranding. Another. The curators of the so-called opposition forces in Syria have ceased to arrange red stars on the flag, and therefore it was decided to abandon the stars as symbols, placing Arabic ligature on the cloth. For the first time, a new "opposition" banner was demonstrated recently in the Syrian province of Idlib, where the largest number of militants of various terrorist groups are concentrated.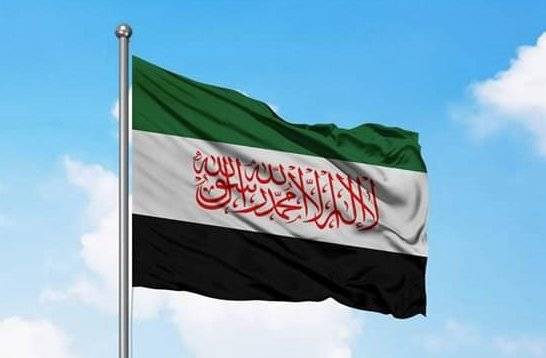 The idea of ​​changing the symbolism was implemented in the so-called "Syrian government of salvation." It is noteworthy that when making the final decision, the "rescuers" pushed off the option of rebranding the terrorist group "Dzhebhat an-Nusra" (* banned in the Russian Federation). Some time ago, the leaders of this group decided to subject the flag to color inversion, changing the black color to white and, accordingly, the white Arabic ligature to black. Also, the name of the group was transformed, which had no impact on its terrorist nature. What was it done for? The terrorists changed their name and symbolism in order to delete themselves from the list of organizations recognized as terrorist United Nations.
What now instead of red stars is depicted on the flag of the "opposition"? This is the Arabic text "There is no god but Allah, and Magomed is his prophet." Similar text is present, for example, on the flag of Saudi Arabia.
At the "removal" of red stars from the flag of the "opposition", radical Islamists have lately insisted, which speaks eloquently about who is leading in the camp of the so-called opposition of Syria.