In Ukraine, the preliminary results of the investigation into the causes of explosions and fire at arsenal No. XXUMX in the area of ​​the Druzhba settlement near Ichnya (Chernihiv region) were announced. During the briefing, the military prosecutor of the central region of Ukraine, Grigory Ryabenko, stated that the investigation team had reached an "unequivocal" conclusion: the cause of the incident in military depots near the settlement of Ichnya was the actions of the saboteurs.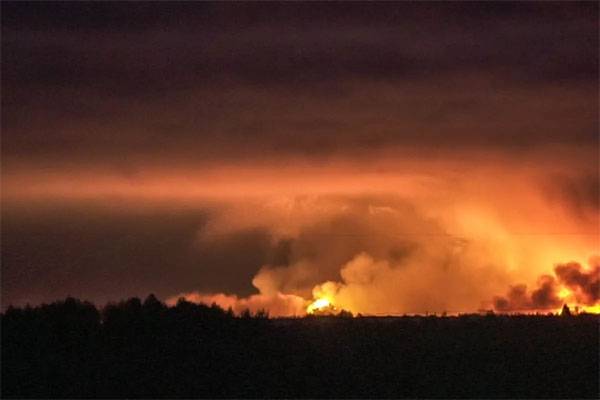 We are talking about explosions and in ammunition depots in the Chernihiv region, which (explosions) began on October 9 around 3: 30 local time. As a result, thousands of tons of ammunition were destroyed by fire. The APU lost the main share of projectiles for multiple launch rocket systems.
Ryabenko at the briefing:
Someone entered the warehouse and laid explosives. Currently, a number of examinations are being carried out that will allow to establish how the explosive device was laid and by whom.
He didn't tell Ryabenko why someone needed to plant explosives where it was originally - many tons.
According to the Ukrainian military prosecutor, a comprehensive forensic examination is being conducted with the participation of specialists from the Kiev Research Institute. It is noted that "ballistic components" are being studied. Following the results of the examination, a procedural decision is planned.
Earlier, the Chief Military Prosecutor's Office of Ukraine decided to classify court decisions on the incident at the Arsenal in Ichnya. Before such a decision was made, the Ukrainian military announced that two unknown men in camouflage had allegedly been spotted near the arsenal, which the nominated group of alarm subsequently could not be detected.
President of Ukraine Poroshenko, just a few hours after the first explosion, stated that the perpetrators must be searched for in Russia, "since it is in a straight line to the Russian border from Ichni, about 160 km".