Below I will set out my personal feelings and impressions of the current reality, and if I'm wrong, then let the "elder comrades correct me," it will be interesting how they will succeed ...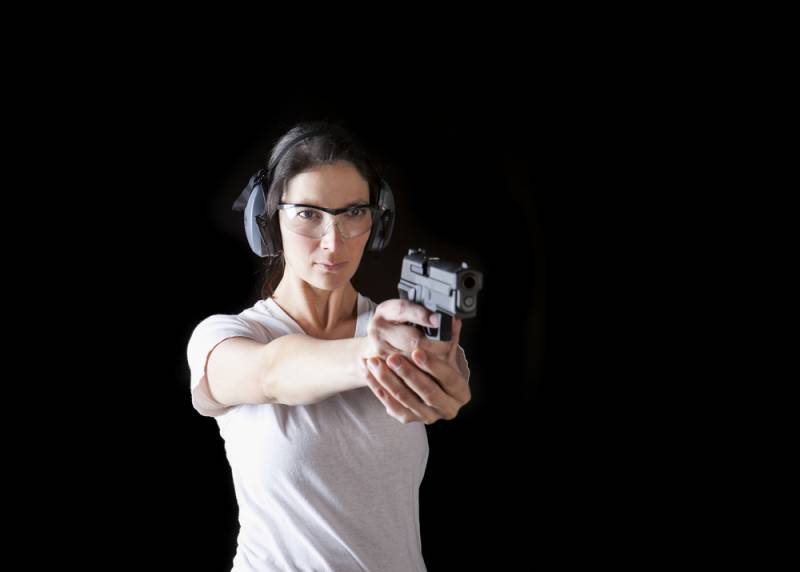 So. In Russia, at all levels of state power, the weak psycho type, its philosophy of life, and even quite healthy impulses and initiatives, whether from society or from the authorities, passing through bureaucratic layers, are either distorted beyond recognition or completely zeroed out in full accordance with the worldview this weak psycho. Because real affairs need real strength, will, knowledge and skills, which the weaklings do not have and cannot have. Therefore, our current government does not have an intelligible and fascinating concept of the future, because the future is not interested in the weaklings, they would only get to the sweet spots in the present and keep them longer.
When weaklings fall into power, they become afraid of any changes. However, the changes must go on constantly, just to develop the economy, and the weaklings cannot control any processes, so they try to prevent them.
Therefore, I personally feel that only bans and extortions from the current legislative and executive power of the bar, and prohibitions are so ridiculous that they very often reduce fees, not allowing people and enterprises to earn money for new and new budget and extrabudgetary taxes! To all non-staff and unforeseen situations, the power of a weak psycho-type habitually responds with prohibitions and ridiculous pretending. The Kerch tragedy again highlighted it vividly ... Instead of real understanding and thoughtful measures, the authorities are fussing, justifying themselves and trying to quickly bring down the hype ... The heads of the Rosguards are pathetically concerned about the problem of storage
weapons
law-abiding owners, who are now anxiously awaiting new bans, new payments, new checks, and they have been pretty much convinced by them before this incident. Lawmakers require a ban on the sale of weapons up to the age of 25. Although the Internet has recently been full of reports that pensioners shot people no less than the Kerch psychopath, they, unlike him, just shot much less at a time. But in the same Israel every population is full of weapons, but every owner every three years passes a full test of sanity, crime and the ability to own their own barrels, with the slightest discrepancy the weapon is withdrawn. Teachers in schools are armed, often with automatic weapons. And the law has long been known that even terrorists, and even more so psychopaths, try not to go where they can run into return fire. And during the execution of Kerch, strong people, students and teachers, could only selflessly cover up those whom they wanted to save, killing themselves as a result. In Israel, there are no school executions, although it is full of terrorists, the late Yasser Arafat himself, the founder of Arab Palestine, advanced in 1965 by bombing an Israeli school with his militants. There was only one similar attempt, when a terrorist entered the religious school, disguised as a rabbi, for the rabbis were not inspected by the guards. But when this fighter began to shoot students in the audience, they lay on the floor between the desks, he was forced to go to the aisle between the desks, and a student who served in the army immediately shot him from his gun. I was in Israel a few years ago and one, let's say, a successful psychopathic shooting ... A retired honored officer shot down the employees of a small bank and killed himself. He was a long-term customer of this bank, but there was a conflict. Then it turned out that all bank employees did not carry weapons, and on that day the guards, who also preferred to be on duty without weapons, were on duty, and the killer knew all this well!
I am more than confident that the number of events similar and similar to the Kerch one will only increase (Lord, make me wrong), for helpless weakness always provokes psychopaths and criminals. And this weakness is visible more than convex from our government! And not only in such an important area as civil security ...
Right now the government has announced the preparation of an economic breakthrough on the basis of planned national projects ... I will say straight - I do not believe it! I explain paradoxically: it will not work, even if something happens. National projects are of an infrastructural nature, this is the old way to create an infrastructure so that free economic forces start producing and selling something on its base. And who will do this if they constantly beat their hands with prohibitions, extortions, paralyzing checks, and even corruption goes off scale? It cannot be otherwise if power is in the hands of weak people. Of course, strong people built into this power will be able to achieve something positive and successful under any conditions, but these achievements will immediately be shamefully and obscenely depreciated by the stream of stupid things, nastiness and absurdities, which continuously generate leadership from a weak psychotype or orientation to this psychotype . Therefore, I am very afraid that what Alexander Vertinsky once sang will repeat: "... even bright feats are only steps on the way to an inaccessible spring ..."
Or another example ... Now such an abomination like AUE is flourishing in schools. There is nothing new in this. Back in the 60-s of the last century, in the Soviet schools, the Spaniard Kodla began to pry, intimidating and knocking down money, which later passed on to young adult shishrikas, allegedly in a thieves obshchak. Gradually, this took on the character of an epidemic, encompassing all schools in 90. Then it was quiet, now it was revived, using for communication and coordination capabilities of the Internet and mobile gadgets, which allows you to quickly collect punks for reprisals against the recalcitrant and more accurately control the collection of tribute. But the opportunities for resistance from teachers and law enforcement agencies have fallen sharply, because they are blocked by different, not afraid to say, degenerate prohibitions and rules that they adopted from the "humane" West, where they also only stimulate youth crime. But this ayushnaya shoots matures quickly. And how to keep it? To infinity increase the number of security forces, sucking the economy for their maintenance? Impossible. This has already been proven. The more security officials, the more difficult it is to adequately maintain them, which, in turn, will provoke corruption and crime directly among them.
This is how I get a hopeless picture of the present reality, and if everything is left as it is, nothing will change, but it will sometime collapse into a catastrophe. There is only one conclusion - people of a strong psychotype should occupy decisive places in the government where it will be possible to cultivate and introduce their social and moral values ​​into the life of the country, thus creating and reproducing a strong, competitive state in our country. For this, in fact, almost nothing needs to be changed, just as I dream, really strong people who are able and willing to honestly do business are in solidarity and come to power in state structures, in leading economic structures, political parties, public movements, educational institutions, and begin to lead all the processes already on the basis of their views, principles and requirements. There are two incentives for strong people to begin this campaign in power: to legally take away the benefits that the weaklings in power now use, for them these benefits are the ultimate goal of all life, when for a strong psycho type they are only a tool and a basis for large, glorious deeds, and the next incentive is simply the instinct of self-preservation, because if you leave the power of the weak, then under some extraordinary circumstances, for the sake of saving yourself - loved ones, you will definitely spend all of them who turn out to be being under their command, nevertheless, he is ready to stand up to the end and not to go on cowardly dialogues and treacherous compromises. This is where the examples from the Chechen events suggest themselves.
Someone may ask me, how should these "strong psycho-type" people identify each other in order to unite to fight for power? Here I will not say anything new ... One of the main criteria for identifying one's own for me is and will be related to the right to full-fledged armed self-defense of one's own and others 'dignity from criminal encroachments. By the way, in the same Europe, the strong guys who are sick of the local degeneration, and they have already begun to act to knock it out of power, one of their main goals is to return to citizens the full right to personal armed self-defense.
In comments to my articles, often from like-minded people I see the opinion that the current authorities believe that even a short-haul in the hands of citizens can serve to overthrow it. Personally, I categorically cut off this opinion. When our branch of the Right to Arms movement conducts its street activities, before each rally or procession begins, I, without sparing my throat, announce into a megaphone that we should all be demonstratively law-abiding, not allowing the slightest violations and altercations with the police present. This follows from my deep conviction that the strong must take power through "the highest aerobatics", that is, exclusively legally, without the slightest pogrom, in a businesslike way, first of all taking possession of people's minds. Besides, I don't have any complaints about the government at all, because it is always what the people in whose hands it is. And if it is in weak hands, then people with strong hands who are not willing to engage in it are to blame for this, and no reason can justify them. For responsibility, only smart and strong are born, and everything depends on their action or inaction.
PS Finally, I quote a commentary from one of my fierce opponents, the orthodox Bolshevik. I do not deny that this quote is taken out of the general context.
"... Let me remind you that CULTURE (in the field of possession of firearms. Weapons) in the USSR and the Russian Federation is a culture of the disarmed people with a limited and highly controlled turnover of the state. A fundamental change in the policy of the Russian Federation in this matter will entail a complete revolution in public relations!
... Arming the country with short trunks ... is a revolutionary change in the way of life of the country! "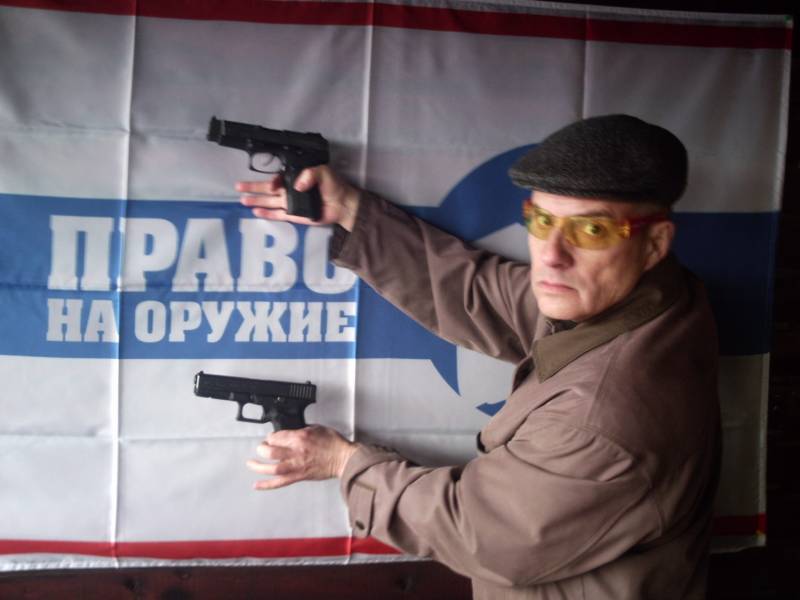 Rifle training in the Olympic dash in Mytishchi. In my hands the Glock pistol of domestic production and the Viking pistol of Yarygin (photo from the author's archive)