Ukrainian armed forces may soon receive a new kamikaze drone. The company "Spetstechnoexport", which is the "daughter" of "Ukroboronprom", posted on YouTube-channel video of the first test of the latest anti-ship ammunition, reports "RG-Force" with reference to Defense Blog.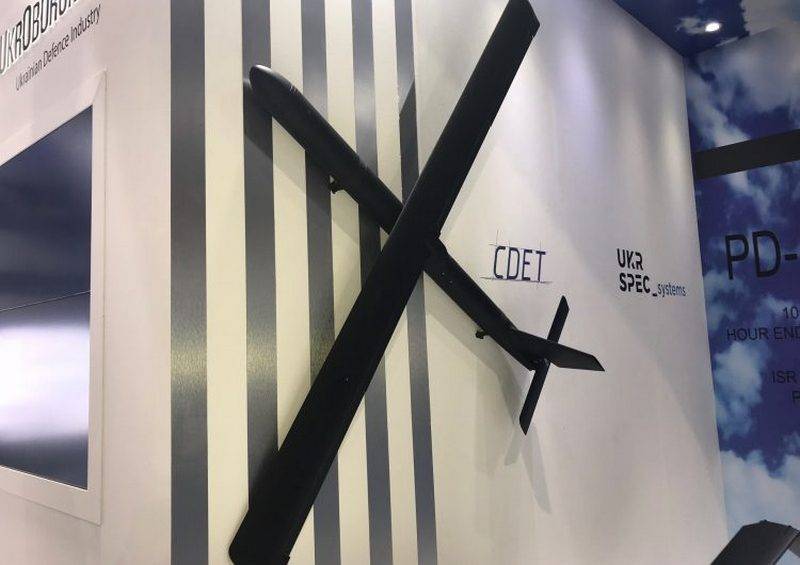 For the first time, Spetstechnoexport presented a new UAV at the UMEX 2018 exhibition, which took place in Abu Dhabi this February. According to the stated characteristics, the RAM drone is able to work autonomously or under the control of an operator, while the communication range is 30 kilometers. The drone can reach speeds of up to 70 km / h and stay in the air for up to 40 minutes. The length of the 1,78 meter, wingspan - 2,3 meter, installed electric motor. A warhead weighing up to 3 kg is installed as a warhead. Can also be used for reconnaissance and surveillance. Made by the aircraft scheme.
The video presented by the Ukrainian company does not reveal all the possibilities of the drone, since the consequences of hitting the target are not shown. But in any case, such kamikaze drones will pose a serious danger to lightly armored vehicles and enemy personnel. That's just mass production, you first need to adjust.