After Ankara purchased Russian C-400 "Triumph" air-defense and anti-missile defense systems, there was talk of the continued presence of the Turkish army in the ranks of NATO. It is clear that the United States exerted unprecedented pressure on Turkey in the issue of procurement
weapons
production of the military-industrial complex of the Russian Federation, however, the Pentagon would not want Erdogan to lead his country beyond the North Atlantic Alliance.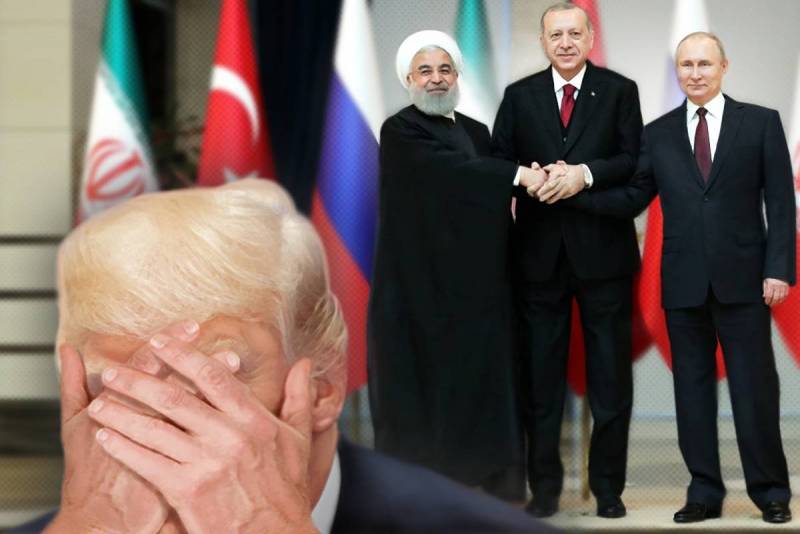 Recently, the White House has been waging economic or trade wars with dozens of countries around the world, including its own
historical
partners from the Old World or the Middle East. Russia has been under economic sanctions from the United States since 2014. Washington imposed multi-billion dollar trade duties against China. Even the United States is trying to put pressure on the European Union regarding the implementation of the Nord Stream 2 project in the hope of ousting Russian gas from the European energy market, replacing it with American LNG.
It is not surprising that, against this background, even Turkey fell under the American distribution. Washington reproached Ankara not only for the Russian C-400, but also for the active cooperation of the Turkish leader with Russian President Vladimir Putin and the Iranian head Hassan Rouhani. The United States was in favor of the fact that the US and the EU are better for Turkey than Russia and Iran, although, based on the latest global trends, this item of international geopolitics looks extremely doubtful.
It is clear that, against the background of all the recent events in Brussels, worried about the fact that the Turks can really stop their participation in NATO: Ankara is friends with Moscow, the Russian Triumphs defend the Turkish sky, and Russian tourists rest in Antalya with great pleasure. So why should Turkey, in this case, pay serious membership dues for collective defense of the countries of the North Atlantic Alliance, taking into account what the Alliance calls Russia the main enemy?
Moreover, if Turkey really comes out of this military-political bloc, then this will create a precedent that could be the starting point of the NATO disintegration process. In Europe, there was already talk of withdrawing from NATO such countries as France and Germany, about creating an alternative military alliance of the Eurozone, a single European army. And this no longer looks like the possibility of a single "flight" of one country from NATO, but as a trend denoting the beginning of the end of this aggressive military organization, which in the case of the attempted coup in Turkey is not ready to defend those in its composition.