In late October, helicopters of the AV500W type UAV armament system (U8EW code) were tested in the Chinese province of Qinghai, the blog reports
dambiev
.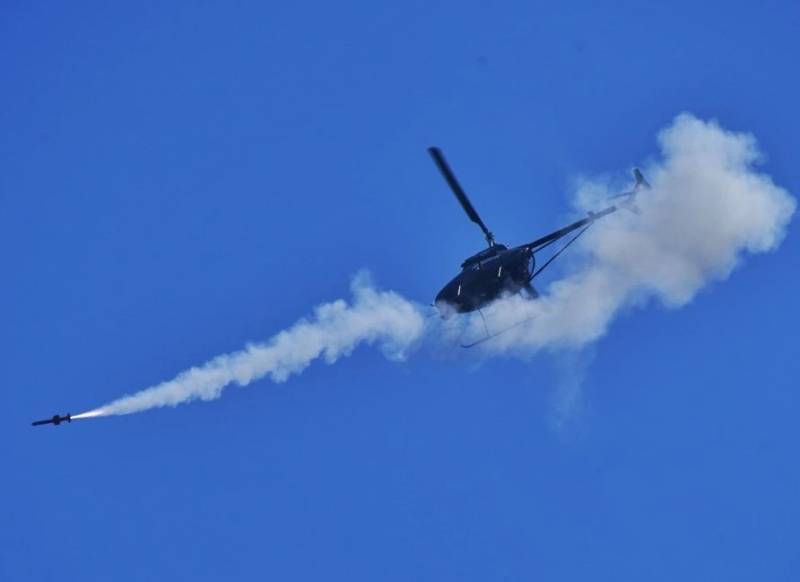 The air-to-ground missile launched by the helicopter hit the target from a distance of 4,5 km.
Helicopter-type drone AV-500 was developed by AVIC corporation in two versions. The first is to perform reconnaissance missions, including for observation (monitoring) flights, search missions, aerial surveys, fire safety control, transportation of small loads, etc.
The second option is a percussion (adding the letter "W" to the designation means an armed version).
The maximum take-off weight of the AV500 (W) is 470 kg, the length is 7 m, the cruising speed is 170 km / h, the range is up to 200 km. The drone can rise to a height of 4 km, the time spent in the air - 4 hours (reconnaissance version - 8 hours). Payload - 160 kg.
The AV500W is armed with four air-to-surface missiles with radar guidance, or laser-guided guided bombs weighing 6 and 10 kg, or a machine gun. The missile range is up to 5 km.
The reconnaissance version is equipped with an optical-electronic observation station on a gyrostabilized suspension, which is equipped with a target recognition and tracking system, a synthesized aperture locator (on an external hanger), and a data relay system.