And in general, it is high time to decide whether we (Russia) are a sea or continental power?
If according to the mind, yes in past times - it seems to be sea and even oceanic. According to the present time - everything is ambiguous.
Although, in principle, it has always been ambiguous. Russia is generally a unique country in terms of flotation, since, probably, no country in the world has such problems with
fleet
. More precisely, with the fleets.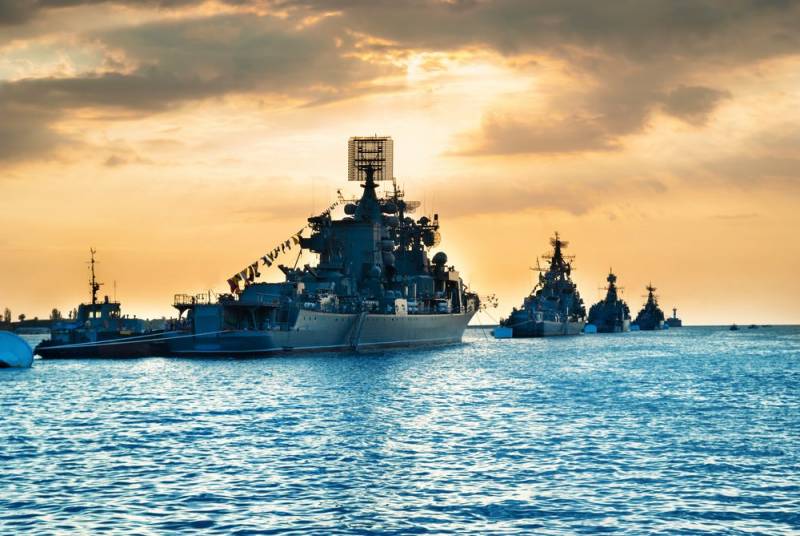 There are countries, which have to keep more than one fleet. Those of the United States, there seems to be more, but they are all divided into two sectors: the Pacific and the Atlantic. But so that four, in my opinion, no one else in the world has such a nightmare.
However, to get out somehow necessary. And not for the sake of frank stupidity such as "showing the flag" or "presence." The flag does not frighten anyone, and the presence of some of our surface ships cause a revival in foreign media exclusively in the "Humor and Satyr" section.
There is a more important thing than all these parades and demonstrations of everything and everyone. It is the protection of objects on our borders, and, in fact, borders themselves.
For example, the Northern Sea Route. Or the Kamchatka Peninsula. Or sea from Kamchatka to Sakhalin. That is such a place in our area, where the air is not always possible to get. About the way on the ground (where it is), I generally keep quiet.
No, of course, you can stick the whole coastline with shooters and babakhalkami, but all that is connected with the personnel and their life support will still fall on the ships. And then, we go to the map, look at our northern and eastern coastal lines, and we understand that, well, its ...
So no matter how it seemed that the fleet is a luxury, without the Navy, alas, no way.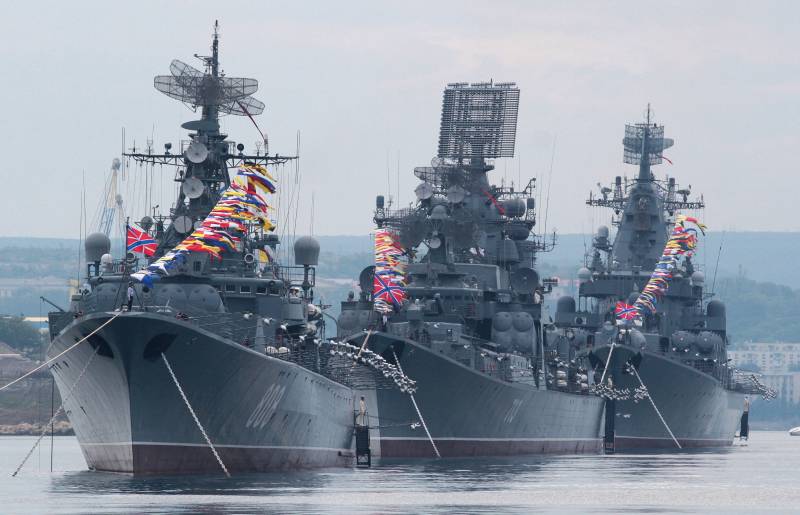 Yes, dear. Yes, for a long time. Yes, not all can now. So what?
And nothing. We must still look to the sea. From there came, it comes the threat will come. Until they invent antigravity, and the battleships will not start flying. So far, the cheapest and most efficient transport over long distances - the sea.
Unfortunately, our fleet is far from being what it used to. We finish the ships, which inherited from the USSR, while they themselves are unable to build something like this. We don't even talk about monsters like "Orlans", here 1164 is still a problem to be repaired, not like building. Alas, it is. The construction of large surface ships of the ocean zone is not for modern Russia.
And at exhibitions you can grind projects such as a supercarrier, destroyer, and so on, up to infinity. Expositions and forums exist to show off there. No projects with exhibitions takes seriously. Give to all in metal and fully armed and in the sea.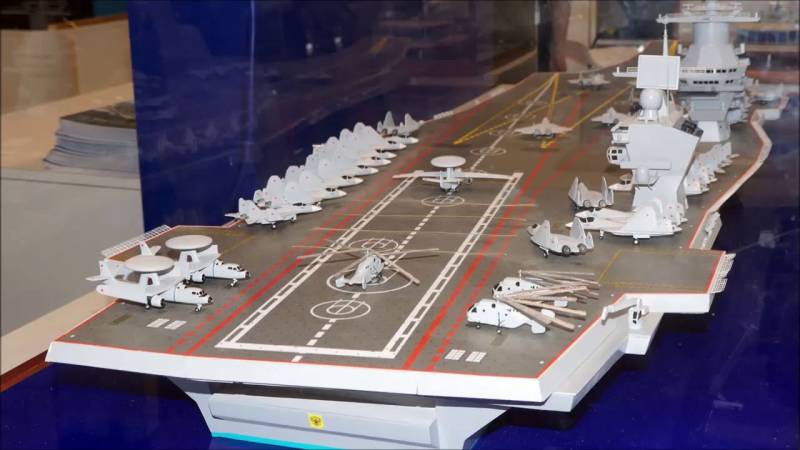 As a result, the Russian navy, even theoretically and in a patriotic frenzy, can not be compared with the US. It looks about as sad as a comparison of our Pacific Fleet and the Chinese PLA Navy. And to catch up (at least) the Chinese in the Pacific, we really can not. And there, besides the Chinese, there is also a Japanese fleet, which also progresses from year to year.
And the option that if not able to equalize chances, then at least leveling the superiority of our potential (and there are all potential ones), is needed like air.
And here, willy-nilly, but you remember that all is not lost in some branches of shipbuilding. Advanced seamen already understand where I'm going. Yes, dear, it is there. By looking water.
We have not yet forgotten how to build submarines. It is a fact.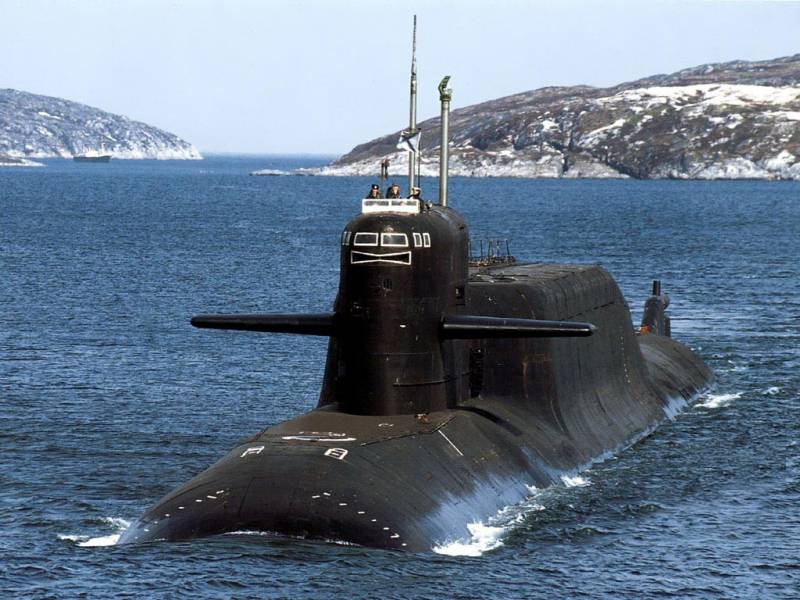 We build the best nuclear submarines in the world. This is also a fact.
Submarines have such qualities as stealth, autonomy and increased combat stability. Last - I meant that, unlike surface ships, submarines move in three-dimensional space, which gives them an undeniable advantage over any other class of ships.
I will not even talk for a long time about the advantages, rather a short excursion into
history
when in the First World War (and also in the Second World War) the island empire of Great Britain was actually brought to the brink of starvation by German submarines, which had sunk all merchant ships indiscriminately.
Today is also very effective, especially if you remember how much everything everyone gets by sea, from the USA to the UK. I generally keep quiet about Japan, for them the sea blockade is the most even today.
By the way, immediately it is worth saying that the sea is not for us to deliver everything, but to fish for pure fish. And then, even with the fleet who would venture to deny? Beach nearby, and on the shore ... Here. There is a difference, right?
Yes, submarines are very effective in the fight against surface ships, and I believe that they are even superior
Aviation
. They cannot fight with aviation, but with the modern working depth of a normal submarine, the plane is not so scary. And atomic and in general.
And then, the submarine still find necessary. With easy plane.
Now some will remember the Strugatsky and their "Inhabited Island". Creepy Island Empire and its flocks of white submarines.
And why not?
Atomic submarines due to their considerable size, high speed, depth of immersion and autonomy, but it makes no sense to use more noise in closed seas such as the Black and Baltic seas. But there is no one to fight with them, the coastal missile systems and the mosquito fleet of small ships with the same "Gages" decide everything.
And, I am sure, will decide how to.
But really oceanic fleets, Northern and Pacific ... Here there is something to think about. It and now submarines are only in the composition of these fleets, then only increasing the quantity and quality.
After all, nuclear submarines, perhaps, are the only large ships that we have not forgotten how to build.
If we are not able to build missile cruisers and destroyers, then maybe an exit in missile submarines? Yes, strategic missile submarines (PKK SN) are operatively related not so much to the Navy, as to the means of nuclear deterrence (SNF), nevertheless these are warships. And the volley of such a ship is no weaker than that of a surface colleague. About Stealth do not even talk.
The main RPK CH as part of the domestic fleet are boats of the project 667BDRM, carrying the X-NUMX ballistic missile submarines (SLBMs) ​​R-16PM of various modifications.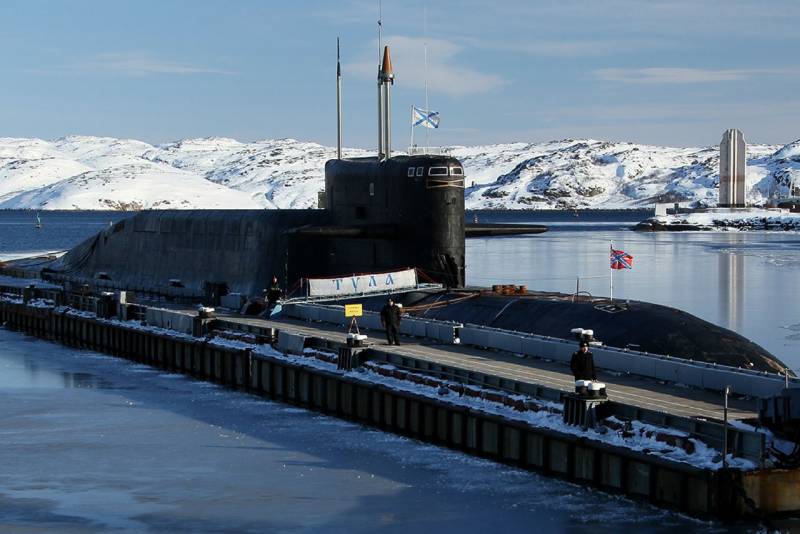 K-51 «Verkhoturye"
K-84 «Ekaterinburg"
K-18 «Karelia»
K-407 «Novomoskovsk"
K-114 «Tula»
They are in service in the Northern Fleet. One boat (K-117 "Bryansk") is under repair.
The forerunners of these boats were ships of the project 667BDR. Each boat carries the same number of P-29P missiles - 16 units.
But from the 14 boat project afloat today only three, Pacific K-223 "Podolsk", K-433 "St. George the Victorious "and K-44" Ryazan ". And yes, the first two are likely to be disposed of, which we wrote about in our time with great regret.
Of the seven cruisers of the 941 project, only Dmitry Donskoy TK-208 remained in service in the Northern Fleet, which is used to test the Bulava R-30 SLBM.
But it is under the "Mace" built ships, which are considered the pinnacle of perfection for submarine cruisers. This is a 955 project, each submarine of which will carry X-NUMX P-16 missiles.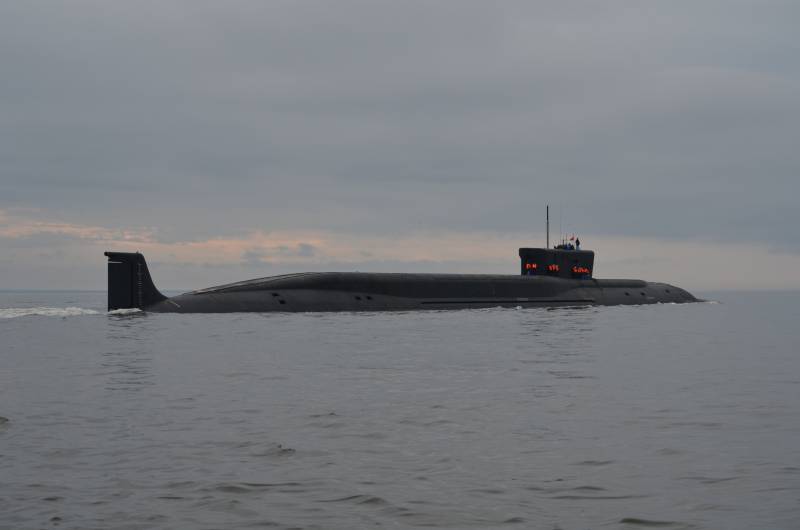 K-535 The Yuri Dolgoruky, the first cruiser of the 955 project, is part of the Northern Fleet. K-550 "Alexander Nevsky" and K-551 "Vladimir Monomakh" are determined to serve in the Pacific.
Further development of the project - more advanced ships with an index 955А are currently at different degrees of readiness and construction. "Prince Vladimir", "Prince Oleg", "Generalissimo Suvorov", "Emperor Alexander III" and "Prince Pozharsky".
In general, if the number of PKK CH Russia lags behind the United States, this lag is not so critical. But China, the UK and France, we go around. However, individually, rather than all at once. But in general, it is doubtful that all the above powers suddenly decide to fight with us. Nevertheless, there is a fragile parity, even if the British and French have almost all the means of nuclear deterrence of the sea-based, which is not to say about us.
But after all, the Navy is not alive with strategic cruisers, right? As I noted above, RPK CH is a warship, but really limited in use. "The whole world into dust" - this is just part of them.
But there are just submarines, the possibilities of which are more modest, but then and not every day it is necessary to destroy countries and continents, isn't it?
In the Northern Fleet, veterans of the 671РТМК project are serving (more precisely, they are living out).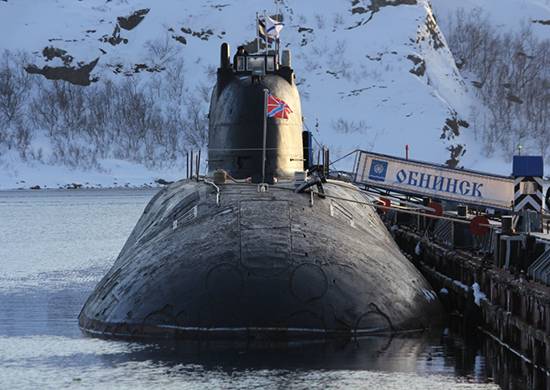 In the good old Soviet times, these boats built 26 units. Today there are only three veterans left: B-138 "Obninsk" in the ranks, B-414 "Daniel of Moscow" and B-448 "Tambov" under repair. B-414 most likely from repair will go to the decommissioning and disposal, sadly, but on the other hand, so much and do not live at all. Most likely the B-138 with the B-448 is waiting for the same fate, the boats are outdated in all respects.
Next we 971 submarine project.
Good boats, in their time, they caught up with the American Los Angeles-class submarines in terms of noise level and, in general, the boats were quite breakthrough in many components.
Of the 14 submarines of the 971 project, which were part of our Navy (the fifteenth boat was immediately given to India), today there are 11 left.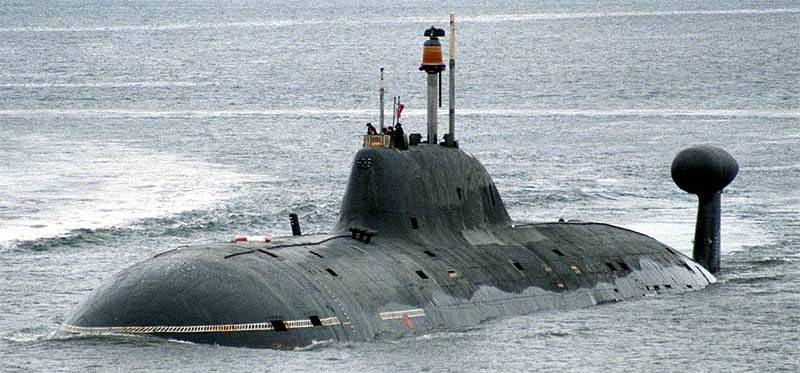 Northern Fleet:
K-317 "Panther"
K-335 "Cheetah" - in the ranks
K-154 "Tiger"
K-157 "Vepr"
K-328 "Leopard"
K-461 "Wolf" - under repair
Pacific Fleet:
K-419 "Kuzbass" - in the ranks
K-295 Samara
K-322 "Sperm Whale" (there is information that after the repair will go to India)
K-331 "Magadan" (there is information that most likely they will write off)
K-391 "Bratsk" - under repair
If you look at it like this, the picture seems to be sad, but there is a nuance. The main armament of this type of submarine, the Granat missile system, to put it mildly (very softly), is outdated. Now it is possible to re-equip boats for newer Onyx and Caliber complexes, which will definitely have a positive effect on the capabilities of the boats.
NPS project 945.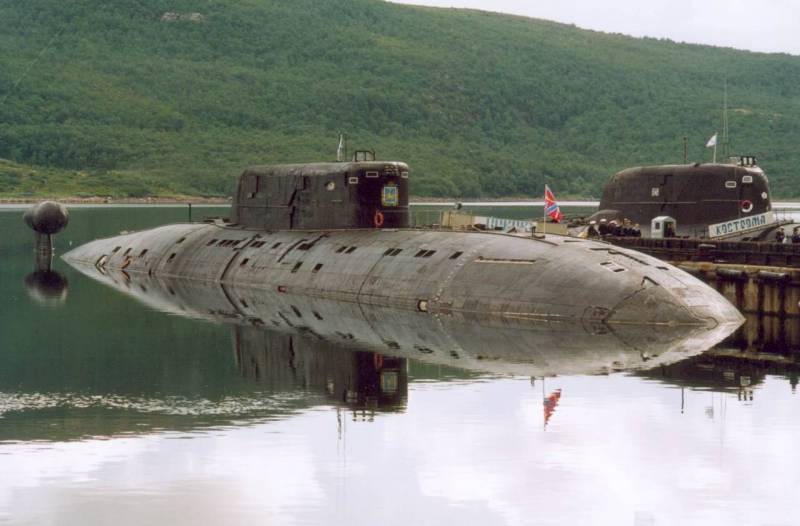 These boats are and they are not at the same time. The titanium hull of the boats made them smaller in terms of size, but significantly increased the cost. In total, 4 boats were made, two under the 945 project, B-239 Karp and B-276 Kostroma, both are under repair from which they are likely to be recycled, and two boats from the 945 project, B-336 Pskov and B-534 "Nizhny Novgorod", which are still in the ranks of the Northern Fleet.
NPS project 949A.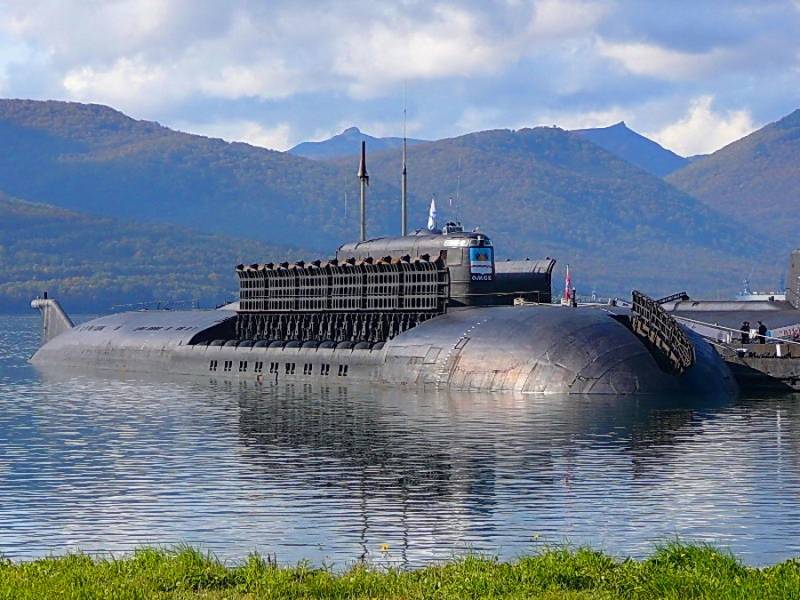 "Antey" is generally a separate topic. The last members of the family of "aircraft carrier killers" suddenly find a second wind.
We are again talking about the modernization of the Granite PCR P-700 on the Onyx P-800 or on the very same Caliber. Global alteration of launch containers is not required, respectively, 24 missiles - this is nice. Not all, but nonetheless.
To date, 11 "Anteyev" left 8. But the former rather narrowly specialized "killer aircraft carriers" will become more versatile and versatile ships.
Northern Fleet:
K-119 "Voronezh"
K-410 "Smolensk"
K-266 "Eagle" - in the ranks
Pacific Fleet:
K-150 "Tomsk"
K-456 "Tver" - in the ranks
K-132 "Irkutsk"
K-186 "Omsk"
K-442 "Chelyabinsk" - under repair
One submarine (K-329 "Belgorod") is rebuilt in a special purpose boat.
Well, the cherry on the cake, submarine project 885.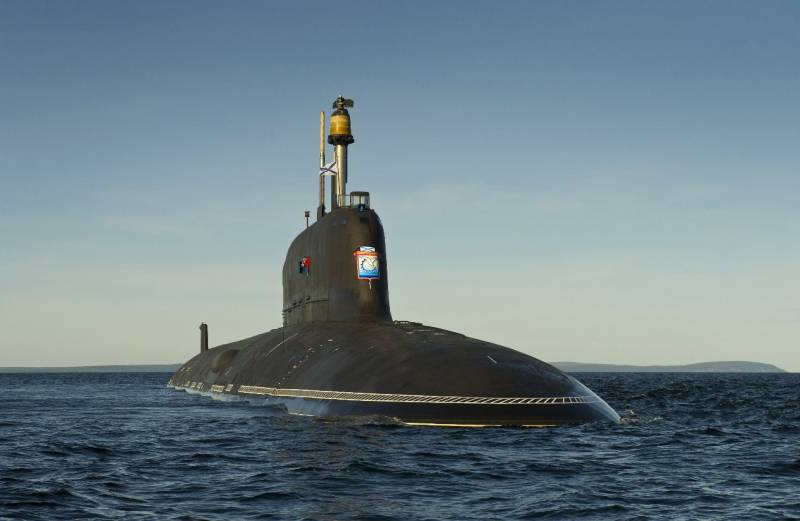 While one, K-560 "Severodvinsk." Low-noise, the latest, capable of a single volley to shoot 32 "Calibra" boat. But already under construction, moreover, within the framework of the improved 08851 project, the 6 APL: K-561 Kazan (already launched), K-573 Novosibirsk, K-571 Krasnoyarsk, K-564 Arkhangelsk, Perm, Ulyanovsk.
What is the result, in which we do not even take into account diesel-electric submarines? About DEPL need to speak separately, because after all this
weapon
very much melee, more suitable just for inland seas such as the Black and Baltic.
Can the quantity of submarines given above be considered sufficient?
If you simply operate with figures of two fleets, then everything seems to be nothing.
27 multi-purpose submarines, of which the 12 is in service, the rest of the 15 - under repair, who is upgrading, and someone will not be back in service. And the number of planned submarines to be disposed ranges from 4 to 6 according to various sources.
Of course, this amount can by no means be considered sufficient. In no case. Yes. In terms of numbers, we rank second in the world after the United States, surpassing all others, but we should not forget that in the event of an open confrontation by NATO, the submarines of the United States will join the submarines of France and Great Britain.
Even if the construction of the "Ash trees" of the 08851 project will go according to plan, without "shifts to the right", this will only compensate for the cancellation of Soviet-built age boats.
It is clear that the boat projects 671РТМК, 945 and 971 sooner or later go down in history, and they will need to be replaced. Will it be "Ash" or some kind of boat of the next generation "Husky", while the question.
Radically improve the situation today with the update of the Russian fleet is difficult. It is difficult, if only because the fleet is very expensive, and most importantly, a slow brainchild for any country. Even for the USA. What can we say about more than modest Russian opportunities.
So is it worth spending the time, money and brains of designers to create empty projects of the type of aircraft carrier "Storm" or destroyer "Leader" if today we simply are not able to start producing elementary propulsion systems for destroyers and frigates? If our ships go to the Chinese diesel engines?
Why then all this? Isn't it easier to concentrate efforts both human and financial (and again it's not enough money) on what we are still strong at?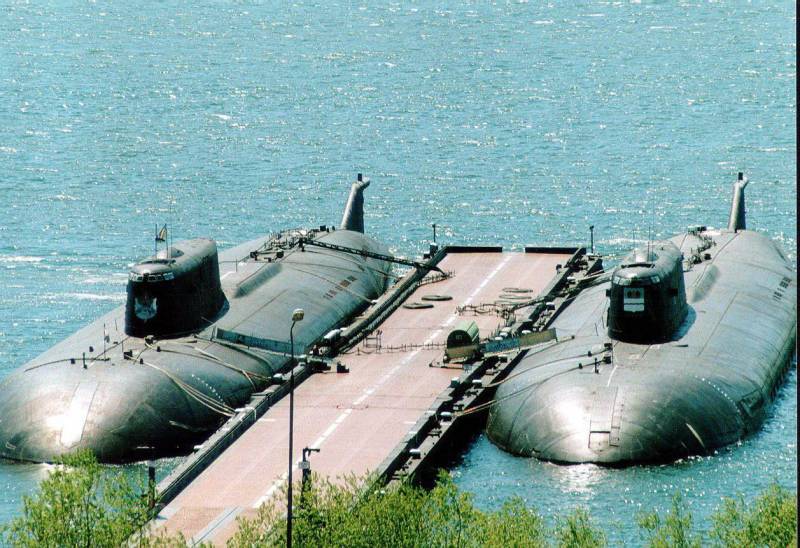 And who said that a powerful nuclear submarine fleet could not become a reliable shield for a country with such a huge coastline?