On the United States of America moves a column of terrible invaders! She has already reached Mexico and will soon be at the southern borders of the United States! The armed forces of America have already transferred five thousand soldiers to the area of ​​possible collision, and this is not the final figure!
This is not an excerpt from a new sci-fi blockbuster. This is American
news
in a somewhat simplified presentation. The column of "terrible invaders" really exists, and it numbers about seven and a half thousand migrants from the countries of Central America — Honduras, El Salvador, Panama, etc. And the Pentagon really threw five thousand soldiers to close the border with Mexico as closely as possible.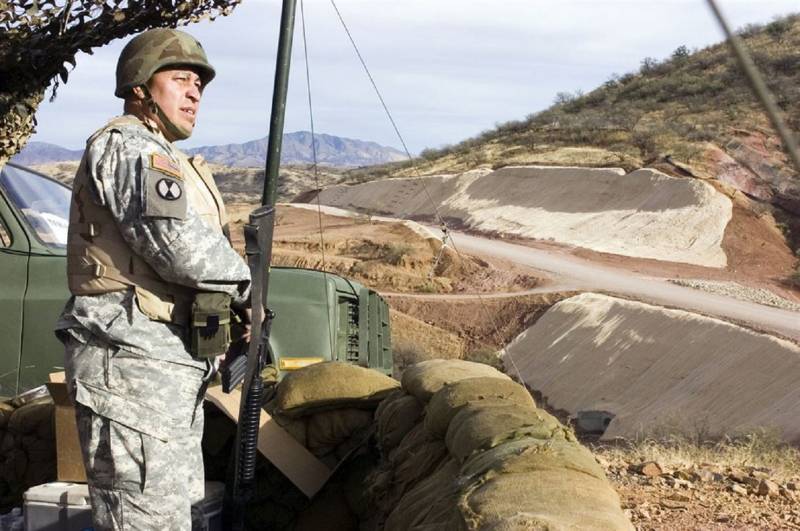 The strangeness of the situation is aggravated by the fact that in the United States, according to some estimates, there are currently more than 11 of millions of illegal migrants. And such a nervous reaction to the approach of another seven and a half thousand looks a bit late ... Unless, of course, we take into account the political moment.
Donald Trump, as you know, wants to "make America great again." And for this, he considers it necessary to restore order in migration policy. He openly declared such a desire even during the presidential elections, and has not refused from his intentions, despite the harsh pressure of the liberal migration lobby.
The implementation of these promises of Trump has now entered a rather difficult phase: he decided to encroach on the "sacred cow" of the American immigration policy, namely the amendment to the American Constitution, according to which US citizenship can be obtained automatically on the so-called "soil right". That is, any child born in the United States, regardless of the status of his parents, automatically becomes an American citizen.
Irresponsible citizens of the whole world used this peculiarity of the American legislation: there is even such a thing as "generic tourism". The wealthy citizens of many not very wealthy countries preferred to give birth to their child in America, because in this way not only the child received American citizenship, but also his parents could count on a significantly simplified procedure for obtaining visas or residence permits. And really: can you refuse the visa of the mother of a minor American who wants to visit his homeland?
But this state of affairs suited the United States in many ways - not everyone could afford generic tourism, in the absolute majority of cases it was only for wealthy foreigners, and they already had good chances to settle in the United States on an ongoing basis. Actually, this country built by migrants has never concealed its desire to remove the "migratory cream" in the form of scientists, highly qualified specialists or just successful entrepreneurs.
However, the situation has changed a lot with the influx of illegal migrants. Millions of uneducated, low-income immigrants from Latin America can somehow be in demand by American industry as low-cost workers. But what to do is not even with thousands, but with at least hundreds of thousands of new citizens appearing in the families of illegal immigrants? America is not at all comfortable to provide their social needs, medical insurance (and it's expensive there), which their parents haven't earned yet, education (free secondary) and so on.
And Trump decided to encroach on this amendment, saying that he was ready to sign a decree abolishing the right to automatically grant citizenship to children of illegal immigrants and non-citizens. And since such encroachments on liberal shrines require serious artillery preparation there, the US administration arranged a show from an event that is quite ordinary for America. It all began, as is now accepted, on Trump's Twitter account:
Many members of criminal gangs and very bad people are in a caravan that is approaching our southern border. Please go back, you will not be allowed in the US, if you do not use the official procedures. This is an invasion of our country, and our military are waiting for you.
Here you are not just migrants, but members of criminal groups and simply "very bad people." All according to the laws of the genre. But otherwise it really cannot be otherwise - the strongest opposition to such initiatives in the USA.
It should be understood that the Democrats are not just protecting the rights of "Latinos" and other migrants - for them this is an important aspect of the political struggle. "Colored" migrants and their grown-up children traditionally vote for the Democrats, and now, when we are talking about tens of millions of such voters, the question is really important. It is difficult to speak unequivocally, without having the data of relevant research (and they are simply banned because of their political incorrectness), but Trump is trying to jump into the last car of the departing train. And if he does not succeed in this, in a couple of decades the Republican Party of the USA can simply be dismissed as useless - all the same, it will have no chance at the presidential election.
In general, the fight will be serious. And while it is difficult to say whether the current US president will succeed in circumventing the Constitution. But he still has very little chance of pushing the corresponding amendment through Congress. Therefore, it was a question of a decree that does not seem to cancel the amendment itself, but only tries to "decipher" it by abolishing citizenship on the basis of the soil for children of certain categories of American guests.
It is noteworthy that at the same time, the President of Russia signed a new migration strategy. Alas, no tightening of migration policy is observed in it. Our traditional migrant love still dominates common sense, but there is, however, one positive shift: now it also applies to Russians who want to return to Russia from countries near and far abroad. Well, as they say, and that bread.
And the Americans can only envy. They have a president, in spite of everything fulfilling campaign promises! Is this not a reason for envy?
Although he promised to establish relations with Russia. Oh, Donald, and here you have a puncture ...