One of the desires of Russian President Vladimir Putin is the "freezing" of the conflicts he created. This opinion was expressed by former French President Francois Hollande during his speech at a conference at the University of Mons Belgian.
Speaking of conflicts, allegedly created by the Russian leader, Hollande had in mind the events in Georgia, Moldova and, of course, in Ukraine. Putin's plans for the non-independent state are to prevent the Ukrainian authorities from controlling their territory right up to the borders with Russia, he said. At the same time, the fault of Ukraine itself in fomenting a military conflict on its territory, according to the former French president, is "partial" and consists only in the fact that Kiev is not effectively fighting corruption, and is not trying to implement the Minsk agreements.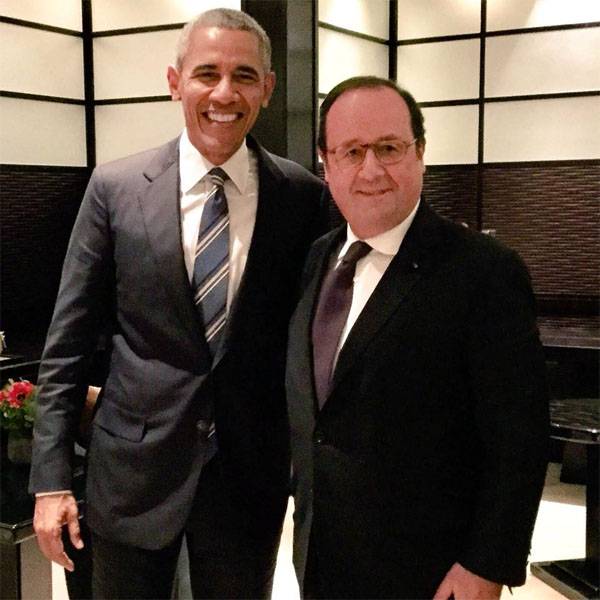 Hollande with overseas friend
Touching on the Minsk agreements, Hollande did not forget to mention his role in creating the "Norman format," which, in his opinion, made it possible to conduct diplomatic negotiations to achieve peace in the Donbas. As the ex-president of France pointed out, only thanks to the joint efforts of his and the German chancellor, Angela Merkel succeeded,
despite opposition from Vladimir Putin
, stop the active phase of the war in Ukraine.
It doesn't matter, however, that military operations continue to this day, and the Ukrainian side continues to ignore the implementation of the very Minsk agreements that were achieved during the effective "Norman format".
Petro Poroshenko lavishly praised Francois Hollande's "great" services, noting his Order of Freedom for his outstanding personal contribution in support of Ukraine's independence and territorial integrity and opposition to "unleashing aggression on the territory of Donbass and de-occupation of Crimea".
Information:
Francois Hollande stayed in
stories
France as president with the lowest level of support among citizens during his tenure in power.