Created by the designers of the Russian company Zala Aero Group (part of the Kalashnikov concern), the REX 1 electronic gun can provide impenetrable protection against drones, writes
Rossiyskaya Gazeta
.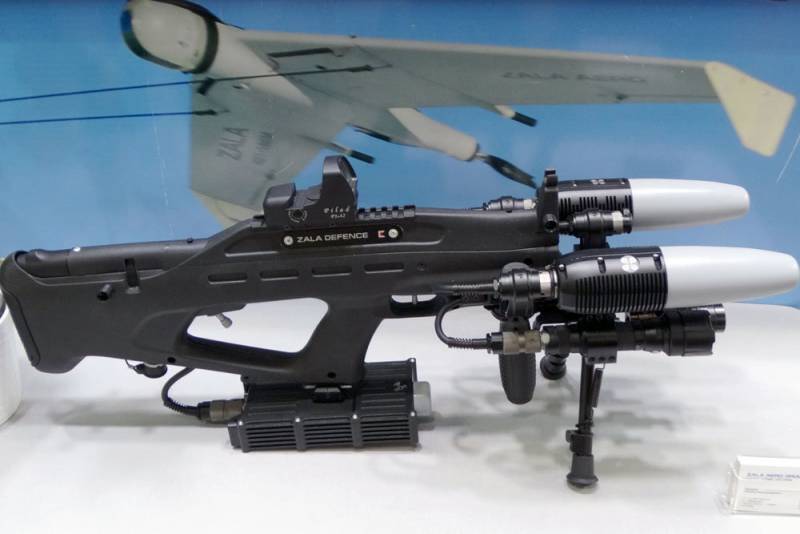 This compact product was shown at the Interpolitex-2018 International Exhibition in Moscow.
Anti-terrorist operations in Syria and Iraq have demonstrated that even small UAVs can pose a serious danger to both troops and civilians.
Drones can correct artillery and rocket fire, deliver reconnaissance information to the enemy about defensive positions and transport communications, and strike at important targets.
So in the Middle East, terrorists turned simple drones into miniature bombers, who dropped their ammunition on equipment and manpower of government troops. In Iraq, for example, armored Hummers were destroyed with drones, and in Syria, an ammunition depot was completely destroyed as a result of one of these attacks.
Today, the tactics of terrorists are being mastered in the Ukrainian army: small UAVs began bombing the defensive positions of the armed forces of the self-proclaimed republics in the Donbass.
Therefore, the opposition to such a threat is now very relevant, the newspaper notes.

Presented at the exhibition REX 1 is able to suppress the control signals of the drone at a distance of 500 meters. And satellite navigation signals are suppressed in a radius up to 2 km. As a result, the drones completely lose their orientation in space and fall to the ground.
To disable the onboard opto-electronic equipment has a laser. The temperature of the product is from minus 40 to plus 50 degrees Celsius. Continuous operation time - 3 hours. Weight gun - 4,5 kg, length - 70 cm.
According to experts, REX 1 is currently one of the most advanced means of protection against drones in its class.