US media publish reports of abnormal landing of armored vehicles in the area of ​​one of the largest US garrisons, Fort Bragg. According to the latest data, from the side of the strategic military transport aircraft C-17 Globemaster during the training mission, a "random" Humvee armored car was dropped. It is reported that the armored vehicle was dropped approximately 8 km before the square in which the landing should take place.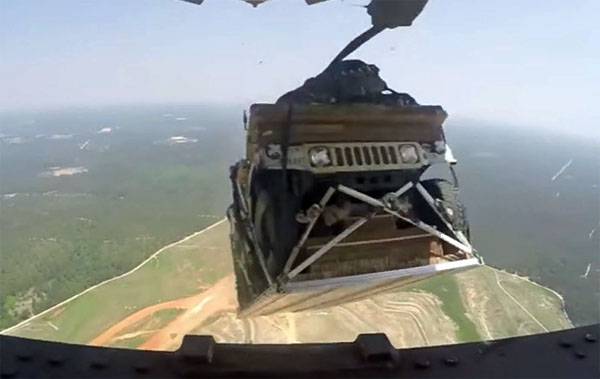 According to the head of the press service of the garrison of Fort Bragg, Colonel Chris Carns, Humvee landed in a wooded area near the residential area of ​​Harnett County. It is noted that the parachute opened nominally.
From the material:
C-17 Globemaster - from the 437 th wing of the Charleston base in South Carolina. He took off as part of a planned training mission. During the flight, he dropped a Humvee armored car around Wednesday at 1: 00 local time. After that, the plane returned to the air base.
An investigation team is currently working to find out the reasons for the abnormal landing of an armored vehicle in the US Army. At the moment, as noted, the version of the "technical error" is being worked out.
Recall that in the 2016 year, three Humvee armored vehicles were landed non-standardly in Germany during maneuvers. The armored vehicles crashed when they hit the ground. The investigation established the deliberate actions of the US Army sergeant, who cut off parachute bindings, which led to the incident.
Video from 2016 year: