A strange situation is unfolding around the state budgetary institution "Center for Patriotic Education and School Sport" (CPSU) of the city of Moscow. According to the law enforcement officers of the capital, the leadership of this center, against the background of statements about the patriotic education of young people and its introduction to sports activities, was engaged in embezzlement of budget funds allocated.
A criminal case on embezzlement has been initiated on the facts of the prosecutor's check, and searches have been conducted in the office of the center of patriotic education. It is also stated that the searches took place at the place of residence of the head of the organization.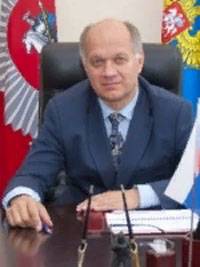 In the media (
RBC
) there were notes about the arrest of the head of the TsPVSHS Andrei Shashkov. There is currently no official confirmation of this information on the Center's website.
It is known that Andrei Shashkov headed the Center for Patriotic Education and School Sport in 2016 year. He has a number of state awards and promotions. In particular, Shishkov was awarded the Order of Merit for the Fatherland, II degree, government award in the field of education. He has the title of Honored Coach of the Russian Federation.
From the appeal of Andrei Shashkov (before the incident with the allegations of theft):
Our Center builds its work in close cooperation with educational organizations, the Moscow Council of War Veterans, Labor, the Armed Forces and Law Enforcement Agencies and other public veteran organizations, with military and security agencies and structures, with executive authorities and local governments, with sports federations, capital institutions of culture and sports.
Added:
In the field of patriotic education, together with our partners, we are implementing such large and important projects of the Department of Education as "Cadet Class at Moscow School", "Cadet Class Day at the Victory Museum", "
Historical
Saturdays "," Saturdays of courage "and" Cosmic Saturdays ". Every year, our Center organizes and conducts the Forum of the Cadet Movement of Moscow "I have the honor to serve the Fatherland!", The Cadet Parade for Victory Day on Poklonnaya Hill, the creative festival "Cadet Star". Specialists of our Center are involved in the development of museum pedagogy and volunteerism in Moscow schools, coordinate and organize activities to prepare young people for military service. It is the Center for Patriotic Education and School Sports that is entrusted with the functions of the Regional Center for the Preparation of Citizens of the Russian Federation for Military Service and Military-Patriotic Education of the City of Moscow.
Also announced the arrest of two subordinates Andrei Shashkov. All detainees, according to the aforementioned media, are suspected of fraud in especially large amounts.
An official statement is expected from law enforcement officers on previously published information about the detention of the leadership of the CPPHS.