Vickers developed a Vickers .50 machineglass of 12,7 millimeters on the basis of its own easel machine gun. The 12,7 mm cartridge was loaded with 35,64 and 37,03 gram bullets. The first one pierced 15-mm nickel armor at a distance of 200 meters, at a distance of 400 meters - 11-mm. A large-caliber machine gun differed from a prototype of a standard caliber not only in its large size, but also in its hinges, as well as in the presence of a special moderator, which allowed it to adjust the firing speed in the range from 300 to 700 per minute.

The machine gun in the land forces was mounted on a field tripod machine equipped with vertical and horizontal guidance mechanisms, similar to the Vickers tripod of a conventional caliber, designed for firing in a sitting position and an anti-aircraft gun. The anti-aircraft gun was a heavy tripod providing circular fire, the angles of vertical pickup - from -5 to + 80 degrees, had mechanisms of fine and coarse vertical pickup. The height of the barrel bore axis was 1 thousand mm, so shooting was carried out from the knee or sitting position.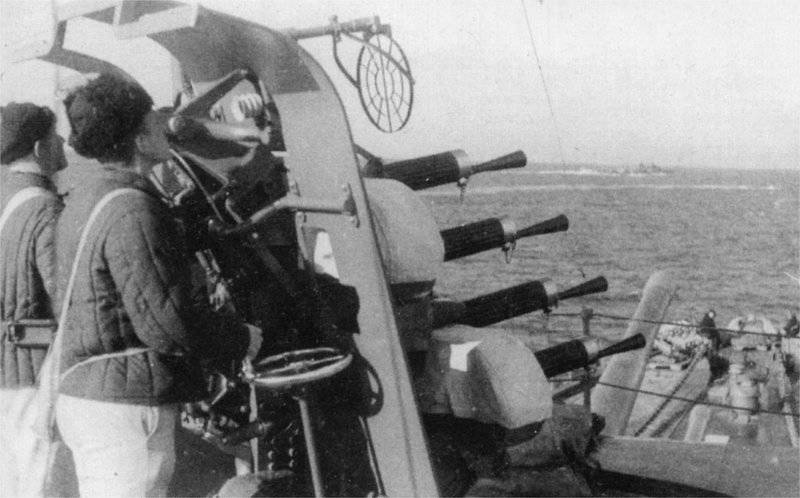 The Vickers .50 machine gun was also mounted on combat vehicles.
In object air defense and naval
navy
Vickers .50 was used on anti-aircraft integrated installations. So, a paired stationary installation was performed on a massive tricycle base with jack supports. To speed up the pickup, it was divided between the right and left gunners and performed using an automatic anti-aircraft sight. The feed was carried out on the right or left side, cartridge boxes of significant capacity were installed on the swinging part, gunners' seats on the rotary part. To save space, the machine guns were mounted vertically on a quad ship installation, each mounted on a swivel on its own swing axis, and a hinged-parallelogram mechanism was used for communication. True, this installation was difficult, and the angles of vertical aiming were limited. Also produced
aviation
12,7 mm version of the Vickers machine gun (type C), with air cooling.
A worker assembles an anti-aircraft installation of two 12,7-mm Vickers machine guns (Vickers .50 Mk. III) at a factory in the Canadian province of Ontario in 1942 — 1943
12,7-mm shipboard installations "Vikkers" were also available on domestic ships. 92 quadruple installations were installed in the Soviet Union. The Soviet ships that participated in the convoys, in the ports of the allies, were equipped with anti-aircraft guns.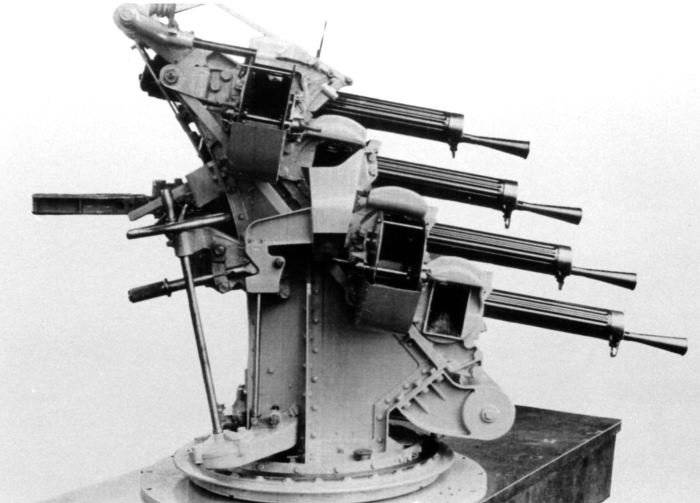 Technical characteristics of the Vickers .50 heavy machine gun:
Caliber - 12,7 mm;
Patron - 12,7x80 "Vikkers";
The mass of the "body" machine gun - 30 kg (with water) / 25,5 kg (without water);
The length of the "body" of the machine gun - 1143 mm;
Barrel length - 762 mm;
The number of grooves - 7;
Initial bullet speed - 778 m / s;
Maximum firing range - 6400 m
Maximum reach height - 4500-5000 m
The rate of fire - 450-600 shots per minute;
Combat rate - up to 400 shots per minute;
Food - tape capacity of 100 cartridges;
Machine type - zenith, field tripod;
The mass of the field machine - 49 kg;
Weight of anti-aircraft machine - 59 kg.