The Kremlin's official website reported that Vladimir Putin decided to impose sanctions measures against the Ukrainian regime. The publication states that measures are being taken in connection with the unfriendly policies of the neighboring state. The initiative itself has the form of a decree with the appropriate name:
"Decree" On the application of special economic measures in connection with the unfriendly actions of Ukraine in relation to citizens and legal entities of the Russian Federation "
.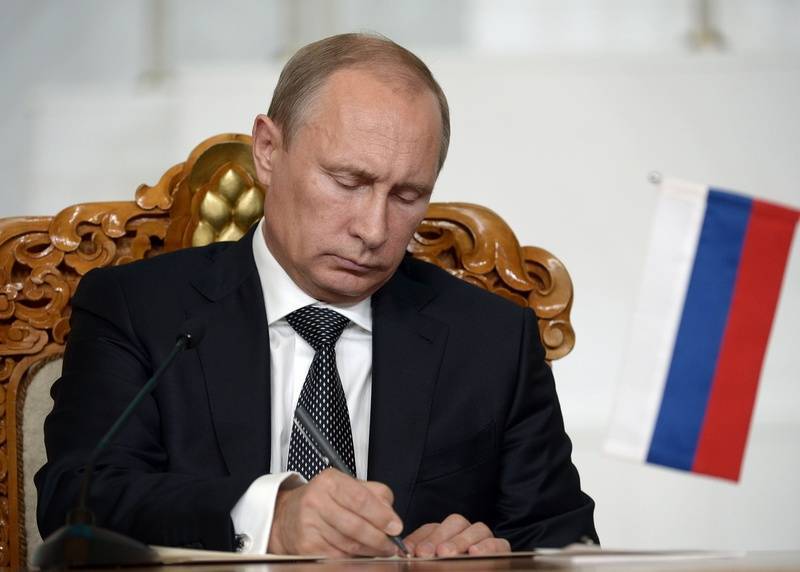 Of
decree
Heads of State:
Federal bodies of state power, bodies of state power of the subjects of the Russian Federation, other state bodies, bodies of local self-government, organizations and individuals under the jurisdiction of the Russian Federation, proceed from the fact that, from the date of entry into force of this Decree in respect of certain individuals and legal entities apply special economic measures.
Further it is said that the government of the Russian Federation should outline a circle of persons (both natural and legal), in respect of which economic restrictive measures are introduced. In fact, this is the Kremlin's response to Kiev's numerous anti-Russian sanctions.
At the same time, it was stated that the government should determine the special measures themselves that will be applied to Ukrainian officials and companies.
No specific measures are reported in the presidential decree issued today.
Experts are now trying to guess what specific sanctions measures against Ukraine will be introduced by the Cabinet of Ministers of the Russian Federation. One of the assumptions is the restriction in trade with the Russian Federation and the freezing of the assets of companies that actually support anti-Russian hysteria. If so, then the question arises, why are these measures being taken just now?
Meanwhile, Kiev has already announced that Russia is "striking at Ukraine before the elections."