The Warsaw authorities decided not to stop and tear down to the ground the monument to the Gratitude of the Red Army in Skaryshevsky Park of the city, the demolition of which began last week. About this reports RIA
News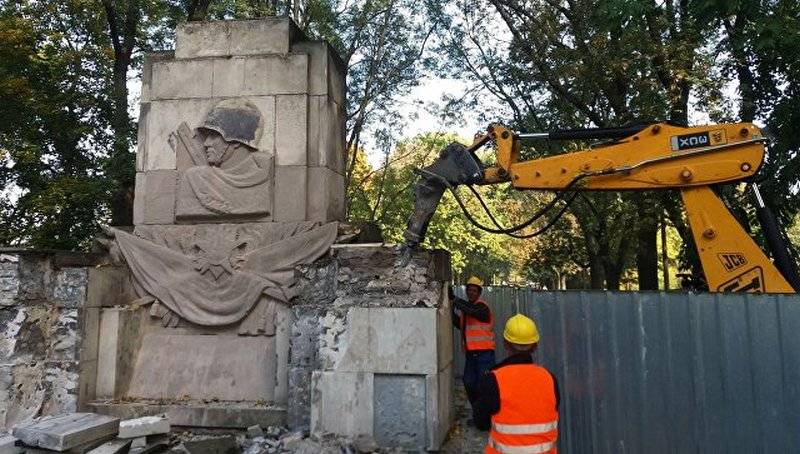 Recall that work began on the removal of the monument last Wednesday. With the help of jackhammers and a tractor with a manipulator, stone slabs began to be chipped off the monument, but when they reached the central plate, they could not remove it without damaging it. The plate with the image of the Red Army is needed intact by the Warsaw authorities in order to transfer the remains of the monument to the "Damned Soldiers" museum dedicated to the anti-Soviet and anti-communist underground.
On Monday, special equipment, an electric generator and a diamond saw were again driven to the monument, after which attempts to destroy the base of the monument continued. Not indifferent passersby in the sign of protest against the demolition stuck on the fence the inscription "Hitler Kaput!".
A memorial of gratitude to the Red Army was erected on the site of the mass grave of 26 Soviet soldiers in 1946, and after the reburial of the remains in 1968, it was moved deep into the main avenue of the park.
After Poland adopted amendments to the law banning the propaganda of communism, more than 450 monuments of the Soviet era were demolished throughout the country, of which 230 were Soviet soldiers who liberated Poland from fascism.