Rosatom completed a contract for the construction of reactor installations for icebreakers of the 22220 project. Today, the second reactor RITM-200, produced by PJSC ZiO-Podolsk, which is a part of the engineering division of the Rosatom state corporation, Atomenergomash has been sent to the Baltiysky Plant in St. Petersburg. This was reported by the press service of the holding.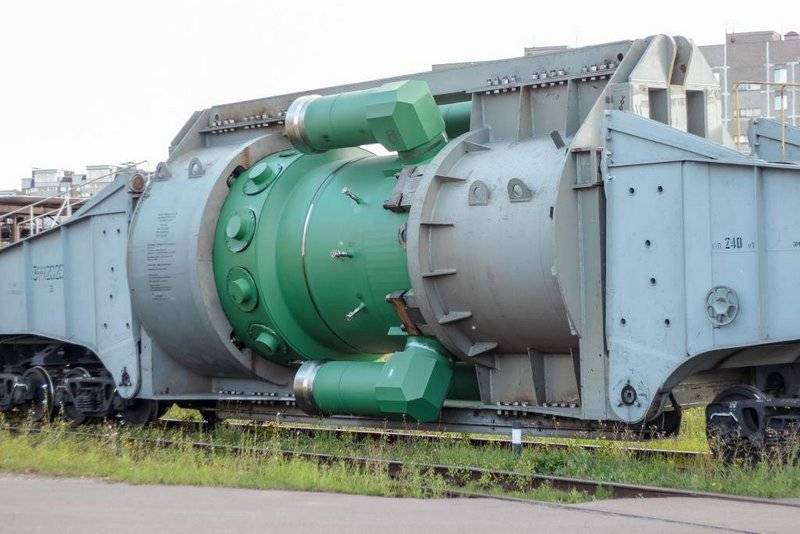 The enterprise sent the first reactor to St. Petersburg at the end of September. Thus, the press service, Atomenergomash reported, having manufactured three reactor installations for nuclear icebreakers LK-60Я of the 22220 project, fully fulfilled its obligations. Each reactor installation includes two RHYTHM-200 reactors. In 2016, the installation was received by the Arktika icebreaker, in 2017, the first production icebreaker, Sibir. Now the second serial icebreaker "Ural" is also provided with a nuclear installation.
The newest Russian reactor installation "RITM-200" is part of the main power plant of the icebreaker and includes two reactors with a thermal power of 175 MW each. Its main advantage over other similar installations lies in its compactness and economy, as well as an energy-efficient integral layout, which makes it possible to make the icebreaker double-set, i.e. able to work both on deep water and in river beds, thereby replacing two types of icebreakers.
At the present time, three LC-XNUMHA multi-purpose nuclear icebreakers of the 60 project (Arctic, Siberia and Ural) are being built at the Baltiysky Plant. According to project data, new icebreakers will become the largest and most powerful in the world. They will be able to conduct caravans of ships in arctic conditions, punching ice up to three meters thick.