Iranian media disseminate a statement from the brigade general of the IRGC, Amir Ali Hadjizade. According to the General of the Islamic Revolutionary Guard Corps, Iranian specialists created an anti-ship ballistic missile. According to Amir Ali Hajizade, the range of destruction for this weapon is about 700 km.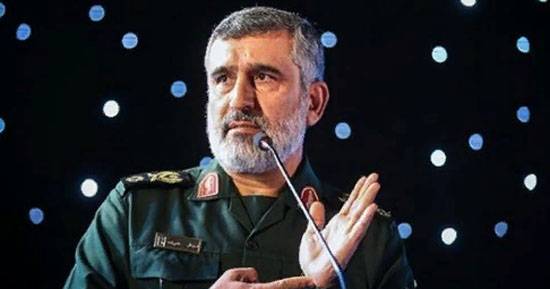 The Iranian general noted that complex technology had been implemented, which will now significantly improve the level of equipment of the troops, including the units of the Iranian coast guard.
This information is published today by the information service.
TASNIM
.
Hadjizade added that Iran has something to protect against external aggression. According to him, Iranian troops have missile weapons capable of hitting targets at a distance from 200 to 2000 km.
Such statements are painfully treated in Israel. Recall that this country has actually become one of the main initiators of the actual rupture (on the part of the United States) of a multilateral agreement in the field of nuclear safety. Donald Trump had previously announced his exit from the "nuclear deal". In turn, Israel welcomed the decision of the United States, adding that it is necessary to exert pressure on Tehran in order to abandon its missile program. In Iran, they responded with statements of readiness to build up their missile capabilities in the framework of the current national security program.
A few weeks ago, a statement was made from Riyadh that "Iran is the main troublemaker in the Middle East." And this is said by the authorities of a country that continues to carry out a military invasion of Yemen.