The marginal cost of the first icebreaker "Leader" (without additional costs and VAT) is 98,6 billion rubles, reports
Kommersant
.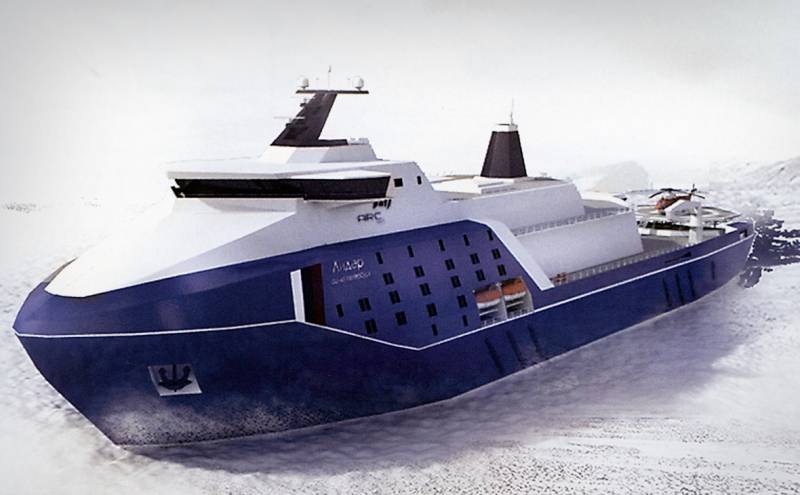 The money will be allocated from the budget with 2020 of the year.
According to the newspaper, the contract for the first ship must be signed before the end of 2019, the laying was carried out no later than February of 2020. Transfer of the vessel to the customer is scheduled for 2027 year. The construction will be fully funded from the federal budget. It is reported that this position was supported by the President of Russia.
Bookmark the remaining two icebreakers planned for 2023 year. Sources of funding have not yet been determined.
All three vessels will be built at the Zvezda shipyard. In order not to disrupt the laying of the first icebreaker "Rosneft" (the main participant of the shipyard consortium) intends to issue to the shipbuilders an advance in the amount of 3,5 billion rubles, which will later be reimbursed from the budget.
The source of the newspaper estimated the cost of the lead ship, taking into account all additional expenses in 115 billion rubles, serial - by 10 percent cheaper.
By December of this year, Rosatom, Rosneft, Zvezda and the Ministry of Industry and Trade will work out a scenario for financing the state contract (the cost of the transaction may be adjusted depending on inflation).
Recall the capacity of the "Leader" will be 120 MW. It should be the only icebreaker in the world capable of escorting ships along the Northern Sea Route all year round, overcoming ice more than 4 meters thick. The corridor widths up to 50 meters, it will lay with the speed of 10-12 nodes.