The column of nationalists began a march in Kiev dedicated to the 76 anniversary of the creation of the Ukrainian Insurgent Army (UPA, the organization is banned in the Russian Federation), reports
RIA News
.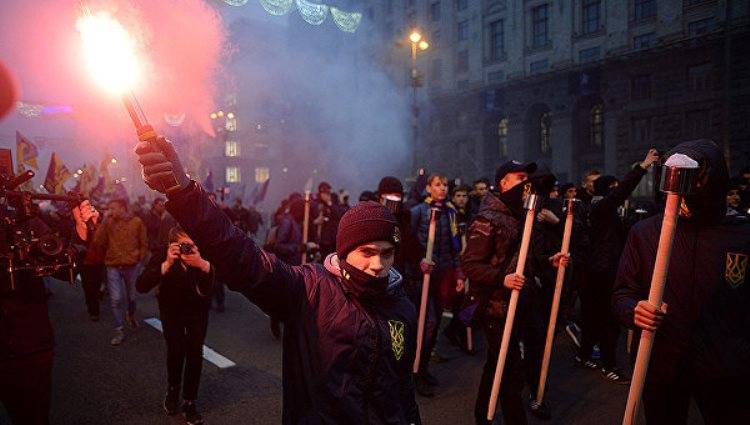 In the hands of the activists, the state flags of Ukraine, the black and red flags of the Right Sector (organization is banned in the Russian Federation), the Azov Regiment, the Svoboda Party, and other right-wing organizations. The convoy is escorted by the police, the traffic is blocked along the column.
The main slogan of the march is "We will return Ukraine to the Ukrainians." Several thousand marchers lit fires and smoke bombs. The organizer of the march was "Freedom" - the nationalist party of Ukraine.
Earlier, the radicals staged two fights with the police, one on Mikhailovskaya Street, when they tried to organize a headquarters on Independence Day to celebrate Defenders Day, the second — in the Mariinsky Park when trying to demolish a monument to General Vatutin. Both times, a scuffle ensued, which cost no injuries. None of the nationalists for the violation of public order was not detained.
Recall today in Ukraine is officially celebrated Defender's Day, which President Poroshenko in 2014 set instead of Defender of Fatherland Day, celebrated in February 23. The new date coincides with the anniversary of the creation of the UPA *. On this day, the radicals traditionally hold processions and other events.
In Kiev, reinforced police patrols patrol. Dozens of police officers are on duty at the Kiev-Pechersk Lavra.
Earlier, the vicar of the monastery, Metropolitan Pavel, spoke about the threats from nationalists to organize the seizure of churches and monasteries of the UOC (MP). He called on believers to spend the whole Sunday in the main Ukrainian shrine.
New incidents are not reported.