There is no doubt that on Monday, the foreign ministers of the EU countries will approve a new regime of anti-Russian sanctions against the Russian Federation for "using chemical
weapons
"Transmits
TASS
statement by the head of the committee of the Federation Council on international affairs Konstantin Kosachev.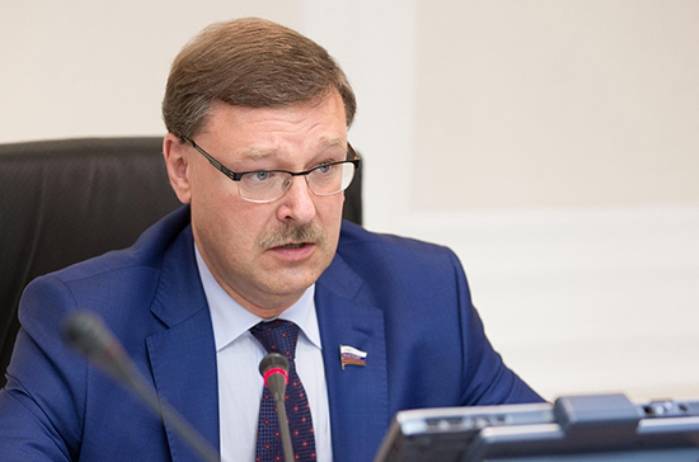 To address this issue, Foreign Ministers will gather on October 15 in Luxembourg.
The probability of the introduction of new anti-Russian sanctions is almost 100 percent. And the point is not that the Europeans have grown a new "tooth" on the Russians, or they really expect some effect from their actions, Kosachev said.
According to him, with the EU and US sanctions they are trying to solve the 3 tasks right away. Firstly, the measures taken by Western countries serve as proof of their own right: once the sanctions are imposed, it means that Russia is really to blame.
Secondly, by doing so, they remove any counterclaims: if we punish, it means that they themselves are certainly beyond suspicion. By definition.
And, thirdly, Kosachev believes, the West is trying to "stake out" for itself the right to judge and punish any country at its own discretion without proof of guilt, using its advantages in the economy and influencing international structures.
If this happened in any court, the Western countries would be the first to shout about outrage, but they themselves behave in the world in an authoritarian, dictatorial manner.
Not for nothing are more and more states stating the need to change the model of the world, which in the West Jesuit is called "liberal", the head of the committee said.
So, we are waiting for the next meaningless for its intended purpose, but very useful for the EU sanctions,
he concluded.
Recall the development of a new sanctions regime began following the results of the June EU summit. This decision was taken immediately after the emergency session of the OPCW, convened on the initiative of London in connection with the case of the Skriple poisoning in Salisbury. At the session, the delegates by a majority vote gave the organization the right to name the perpetrators (including those alleged as in the case of Russia) of the himatak.