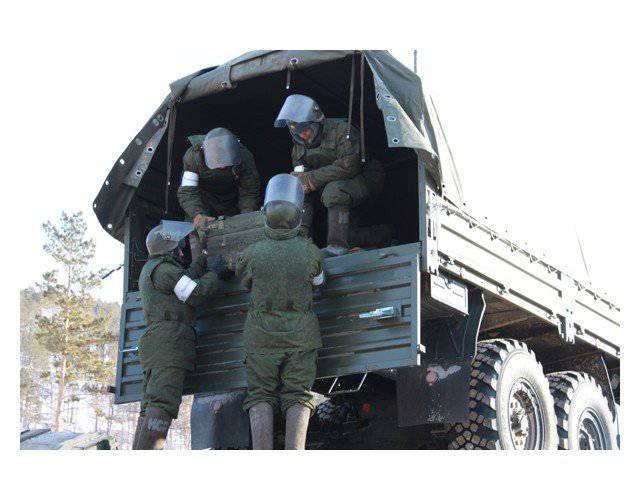 During the transportation of ammunition to be disposed of in the area of ​​the "Tsugol" landfill in the Trans-Baikal Territory, a fire broke out in one of the column vehicles. The spokesman for the Eastern Military District, Lieutenant Colonel Alexander Gordeyev, confirmed the RIA "
News
"fact of state of emergency:" As a result of a fire, there was an explosion of the ammunition that was in the back of the car, there were no damages and no injuries. "
According to witnesses of the incident, the convoy was sent to the landfill for the planned destruction of the shells that had served. At some point, the locking car suddenly caught fire. The driver left the cab and managed to run a safe distance, followed by a series of explosions.
The scene of the incident quickly cordoned off by military forces. There is no danger for the civilian population, the nearest settlement is located in 20 km from the explosion site. "Currently, the fire is localized, an investigation is underway. The military KamAZ burned to the ground," Gordeev said.
The military prosecutor's office of the Eastern Military District and the military prosecutor's office of the Borzinsky garrison began checking on the fact of the explosion. Two preliminary versions of what happened are being put forward. According to the first, as a result of a fire while driving, a truck could detonate a fuel tank. According to the second, the fire started when the missiles were loaded into the truck.
Recently, in Russia there was a whole series of emergency at military sites. So, May 24 at the Ashuluksky testing ground in the Astrakhan region caught fire and exploded 145 crates in which there were 840 shots to grenade launchers. As a result, one soldier was injured and provided with necessary medical assistance.
A week before that, on May 18, a fire occurred at the Defense Ministry's warehouse in Primorsky Krai, where hundred-millimeter shells are stored. Because of the threat of spontaneous launches from nearby settlements, civilians were evacuated. Two people were injured. According to the preliminary version, the fire broke out during the preparation of ammunition for disposal.
And on May 3, on the territory of the Mulino military test site in the Nizhny Novgorod region, one of them unexpectedly exploded during the planned destruction of the spent shells. Four soldiers-conscripts died on the spot, two more died in hospital. According to the Investigative Committee, the explosion thundered when laying ammunition from the car to the ground.