The fires that have become more frequent in recent years at the arsenals of the Ukrainian Armed Forces have led the state to huge losses. Experts give different figures of damage: from hundreds of millions to five billion dollars. It is reported by Ukrainian
news
TSN channel.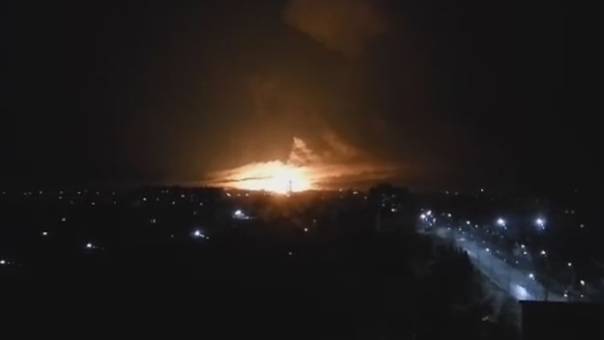 However, the financial component of such fires is not the only concern for the Ukrainian authorities. In particular, we are talking about the consequences that can critically affect the combat capability of the state. Thus, as a result of a fire at the military arsenals near Inchi near Chernigov, Ukraine lost a huge amount of large-caliber shells. But the independent state has always experienced difficulties with the lack of large-caliber ammunition and in the event of an aggravation of the military situation could not provide the batteries of large calibers with the necessary shells.
In this regard, the Ukrainian authorities had two ways to solve this problem: to deploy their own production of such ammunition, or to buy them from their Western partners at exorbitant prices. In the second case, there was an additional problem with matching calibers. However, the US and NATO were not in a hurry to secure their vassal.
Recently, Ukraine still managed to launch the release of large-caliber shells. Meanwhile, the armed forces continue to experience their acute shortage, and the "enemy" knows about this Achilles heel (that is, Russia), some Ukrainian military experts say. In addition, the "enemy of Ukraine" has information about the exact location of storage facilities with ammunition deficient for the Armed Forces and deliberately hits these warehouses, "said Ukrainian expert Konstantin Mashovets.
The statistics speak for themselves. Six large fires in military ammunition depots occurred in four years. If this is not stopped, the Ukrainian artillery will actually face such a concept as "shell hunger".
Earlier on our site there was a material that the majority of Ukrainian experts still believe that the "Russian trace" in the case of fires in warehouses should be looked for last.