Ukrainian media publish the opinions of experts to assess their situation with the explosions in the arsenal of the Armed Forces of Ukraine in the region of Chernihiv city Ichnya. Recall that the first explosion in warehouses thundered on the eve of approximately 3: 30 local time. According to the official data previously published in the Ukrainian media, the 6 arsenal contained about 130 thousand tons of ammunition, including missiles for the MLRS and anti-aircraft missiles to various complexes. Important - along with the documentation.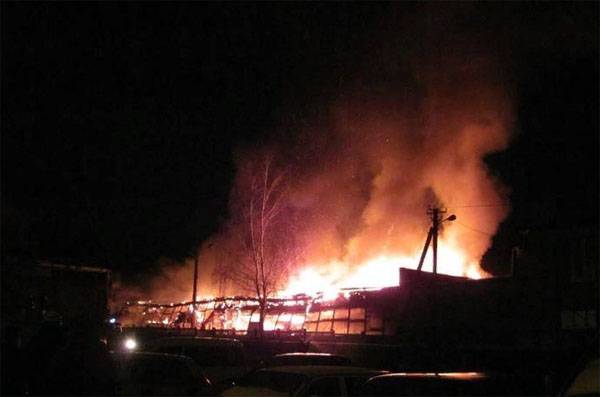 The opinion expressed by many Ukrainian experts runs counter to the statement of Petro Poroshenko, who announced that this is "the next Russian trace." Poroshenko on the eve said that the proximity of the arsenal to the borders with the Russian Federation "imposes its imprint."
Even "speaking helmet" Dmitry Tymchuk only by tradition mentioned the "possible involvement of Russian intelligence", after which he said that in fact the reason must be sought within Ukraine itself. According to Tymchuk, who at one time worked at the arsenal No. XXUMX in the Chernihiv region on behalf of the Verkhovna Rada Committee, the organization of security and safety at this military facility left much to be desired. According to Tymchuk, there were formal replies from the General Staff and the Ministry of Defense - "problems are known, measures will be taken."
On the TV version of the same
"Browser"
and a statement was made at all that the notorious "Russian trace" as the cause of the explosions near Chernigov should be considered the last.
Ukrainian experts wonder why it was recently reported that there are 130-150 thousand tons of ammunition in warehouses near the village of Druzhba, Ichnyansky district, Chernihiv region, and now officials, including the head of the General Staff of the Armed Forces of Ukraine, declare "88 thousand tons". At the same time, none of the departments reports on the availability of documentation regarding the "transfer" of at least 40 thousand tons of cartridges, mines, shells and rockets.
Meanwhile, the Ministry of Defense of Ukraine reported that destroyed "about half the contents of the arsenal."