Recently, sociological monitoring services published the latest ratings data of Russian politicians and government officials. Publication specifically noted
Levada Center
(performs the functions of a foreign agent). If you believe the data of this center, the trust rating of the Russian president continues to fall. If in June of the current year it was 48%, then by the end of September it sank to the level of 39%.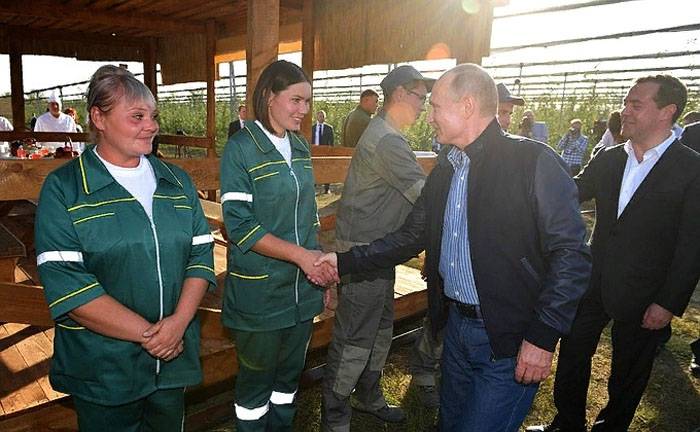 Many heads of Western states could envy such a rating, but for Russian political reality these are not at all those values ​​that the government could write to itself as an asset. Especially, given the result of Vladimir Putin in the March presidential election.
How were the answers of the Russians interviewed by the Levada Center distributed to the question of which of the modern political figures they trust:
About trust
Vladimir Putin
as already noted, stated
39%
respondents. Attention is drawn to the fact that in second place is the answer
"No such" - 18%
. On
15%
surveyed trust
Sergey Shoigu and Vladimir Zhirinovsky
. Among the leaders of the rating - Sergey Lavrov and Dmitry Medvedev (they have 10%).
In the presented final list, Navalny with 3% bypassed, for example, the head of the fair Russia, Mironov.
In the same survey, respondents found out which of the political figures Russians least of all trust. It turned out that the leader of the anti-rating is Dmitry Medvedev, the Prime Minister of the Russian Federation. Untrusters - 31%. Vladimir Zhirinovsky does not trust 20% of respondents. And for the first time in a long time, the president of Russia, Vladimir Putin, was in the top three of anti-rating leaders. He was refused trust 13% of respondents "LC".
After the publication of this data in the general access mode, the political consultants of the authorities decided to take such a step as demonstrating the proximity of the authorities to the working people. On federal channels there were plots about a joint visit by the president and the chairman of the government to an agricultural enterprise in the Stavropol region - with a lunch of soup, potatoes, cutlets and compote.
When covering the trip of the first state officials to the Stavropol Territory, the federal channels decided not to extend the topical issue of pension reform, stating once again that "reform is a necessary measure, and people understand it." They decided not to focus on the fact that "according to statistics" no more than 15% of the population, and the remaining 85% were "understood to be refused".