US media reports that Nicky Haley, the United States Permanent Representative to the United Nations, has left her post. American journalists write that for them this personnel decision of the presidential administration Donald Trump "was unexpected."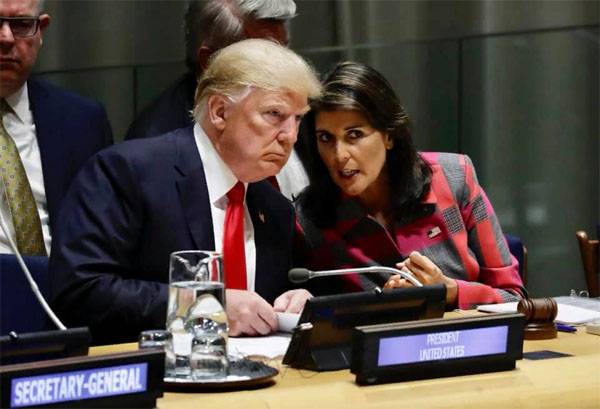 In the United States media publications, it is reported that Nikki Haley filed an application "of her own will" a few days ago - immediately after the end of the US presidency of the UN Security Council. After that, Trump called Haley to the White House, where, according to the American media, a substantive conversation took place between them. After a conversation with Haley, the White House's boss accepted her resignation.
Nikki Haley has Indian (Sikh) roots. Her birth name is Nimrata Randhava. Born in 1972 in South Carolina (USA). Her parents had previously moved to the United States from the Indian city of Amritsar (Punjab). After graduating from school, Nimrata Randhava received an accounting degree from Clemson College (Clemson College). For some time she worked in a waste recycling company, after which she started working in a mother company. The business went uphill, Nikki showed quite good abilities of an accountant and after some time was invited to the board of directors of the Orangeburg County Chamber of Commerce. After 6 years, she was already president of the National American Association of Women Entrepreneurs. At the same time, she was elected to the South Carolina State House of Representatives (2004 year). In 2009, he was elected governor of the state. In 2016, Trump appointed Haley to the position of US Permanent Representative to the UN.
In the UN, like any other US envoy, I remember the traditional heated debate with representatives of Russia, China and other countries that are not in the circle of allies of Washington.
Expected appointment to a vacancy in the UN. About candidates yet said. But it is known that Hayley will remain technically permanent representative until the end of this year. Only after that she will leave the post officially.