President of Ukraine Petro Poroshenko gathered an emergency meeting of senior security officials, including officers of the General Staff of the Armed Forces of Ukraine, the Minister of Defense, as well as representatives of the National Security and Defense Service in connection with the incident at the next arsenal of the country's armed forces. Recall that the first explosion at the 6 arsenal near the village of Ichnya thundered at about half past four in the morning local time. After that, a fire broke out, traffic was blocked on three roads, on the railway in the Chernihiv region. Also, the authorities urgently closed the airspace within a radius of 30 km.
For reference: The 6 arsenal of the Armed Forces of Ukraine in the A-1479 military unit is located in the village of Druzhba (Ichnyansky district of Chernihiv region).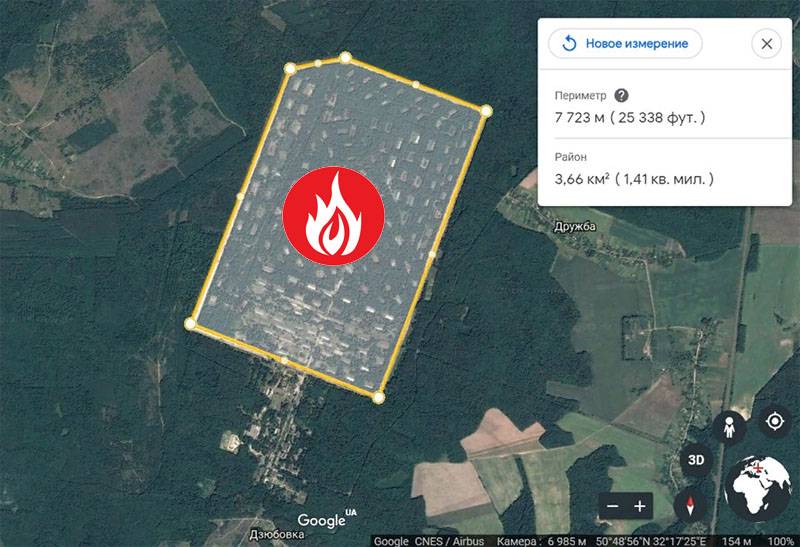 A spokesman for the President of Ukraine, Svyatoslav Tsegolko, writes on Facebook:
The President summoned the security officials to report on the situation prevailing near Ichni in Chernihiv region. The government is instructed to provide all necessary assistance to people.
By this time, more than 11 thousands of local residents have been evacuated. They are placed outside the 30-kilometer zone. Hotels and gyms of local educational institutions are used.
Ukrainian media publish information about what kind of ammunition and weapons were in warehouses in the village of Friendship. Referring to reports from local residents, it is reported that ammunition for the Grad MLRS was among other things stored at the warehouse. The fragmentation is currently exceeding 30 km. It is reported that the shock wave knocked out the windows along with the frames in the villages closest to the arsenal.
In open sources there is information that the arsenal of the A-1479 military unit did not contain at least 130 thousand tons of ammunition of a wide range of nomenclature: from ammunition to rifle ammunition.
arms
before the rockets.
Against this background, Ukrainian portals published a statement that the site of the Ministry of Defense of Ukraine was allegedly subjected to a DDoS attack. In fact, the site MOU is operating normally (at this minute).
In the comments of Ukrainian users in the Ukrainian media, indignation is expressed by the fact that this is already the fifth arsenal of the Armed Forces of Ukraine where thousands of tons of ammunition have been exploded lately. There are calls to send the head of the Ministry of Defense of the country, Stepan Poltorak, to resign and to take action as soon as possible on changes in the security system and ensure security at military facilities, including the warehouses of the Armed Forces of Ukraine.
No casualties are reported for this hour.