The meteorological satellite "Meteor-M" number 2.2 will be launched from the Vostochny cosmodrome no earlier than April of next year, reports
RIA News
post your source.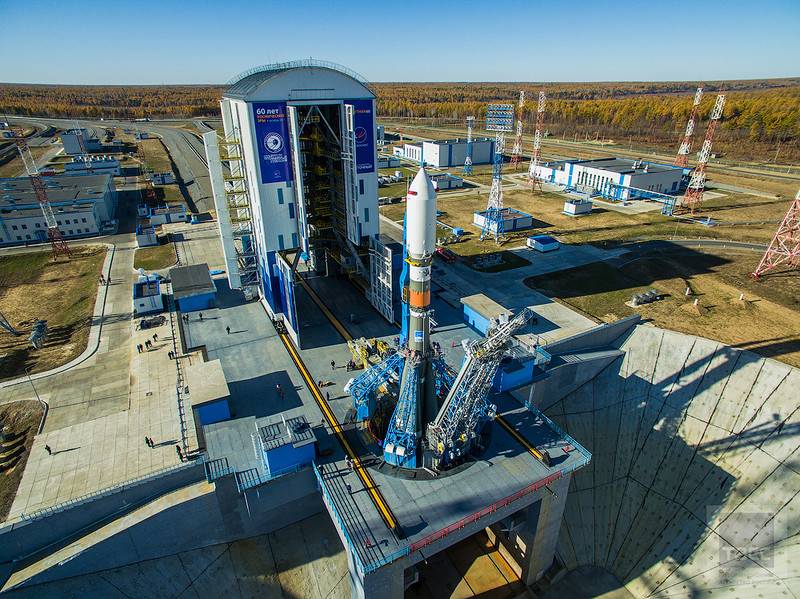 The upcoming launch will be the first from this launch site in 2019. The satellite will launch the Soyuz-2 into orbit with the Fregat upper stage.
Initially, the device was planned to be launched into space by the end of the year, but due to the unavailability of Meteor, the start was postponed to 2019 year without specifying more precise dates. The shift to the right is caused by the untimely delivery of components to the manufacturing company - VNIIEM Corporation.
In September, the head of Roscosmos, Dmitry Rogozin, said that next year an active launch program would begin at Vostochny - at least 5 starts should be completed.
Satellite Rosgidromet "Meteor-M" is designed to receive images of the Earth's surface, clouds, snow and ice cover. Now only one such device, launched in 2014, functions in orbit. The launch at the end of last year of the second satellite ended in an accident.
And at Baikonur at this time, the Soyuz-FG carrier with the Soyuz MS-10 spacecraft is preparing to launch. The rocket is already installed on the launch pad.
The launch is scheduled for October 11 from the "Gagarinsky start". Cosmonaut Alexei Ovchinin and US astronaut Nick Haig will go to the ISS. Instead of the third cosmonaut, a container with provisions of 62 kg will fly to the station.
In November, Ovchinin and Sergei Prokopiev, who is on the ISS, are to go out into outer space in order to look outside at the hole in the ninth Soyuz, which caused an air leak at the station. To do this, astronauts will need to disassemble a part of anti-meteorite protection.