Bellingcat, who had been rounded off with Donbass fakes, left without any intelligible comments from the Russian Defense Ministry about the number and exact route of the missile transportation, which was shot down by the Malaysian Boeing, decided to launch an offensive on another flank. It's about the Skripl case.
Bellingcat published a material in which it is stated that Alexander Petrov, who appeared before Margarita Simonyan, was Alexander, but not Petrov, but a certain Mishkin. At the same time it is stated that his professional path is "a doctor in the Russian military intelligence". Place of birth in the screen of the passport indicates the village Loyga Ustyansky district of the Arkhangelsk region. He is said to be a graduate of the Military Medical Academy in St. Petersburg.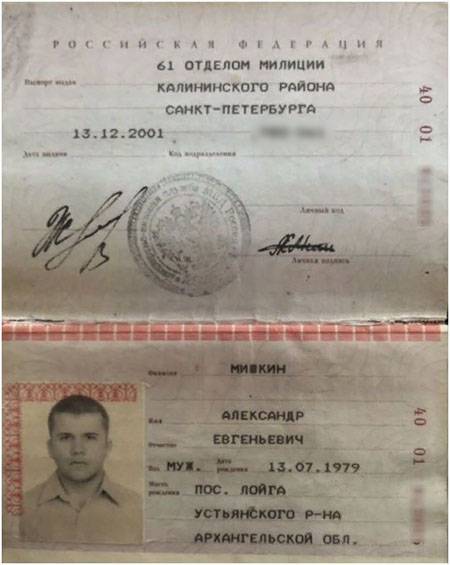 From the note "Bellingcat":
Now we have identified "Alexander Petrov," in fact, Dr. Mishkin, Alexander Evgenievich, a trained military doctor in the service of the GRU. The Bellingcat identification process included many open sources, testimonies from people familiar with the person, and copies of personally identifiable documents, including a scanned copy of his passport.
The note states that Petrov-Mishkin traveled extensively from 2011 to 2018. He made several trips to the territory of Ukraine, visited Transnistria.
Further, it is said that Bellingcat feykomes conducted interviews with people familiar with Mishkin. Interviews were taken in St. Petersburg and in the Arkhangelsk region. The full version of these materials will be published tomorrow.
Attention is drawn to the fact that the passport number, the screen of which page is represented by the "Bellingcat", is blurred. Apparently, there would be fewer opportunities to check whether the passport is genuine, or is this another photoshop-work from the office, which is controlled by Western intelligence agencies.