For two days they tried to understand what was happening in Ingushetia. Whether CPP Kadyrov for pressing oil-bearing bit of land, or something else.
Generalized personal opinion - Kadyrov is not in the business. More precisely, not really. In essence, all this demarcation looks like a kind of thoughtless and unjustified incomprehensible step.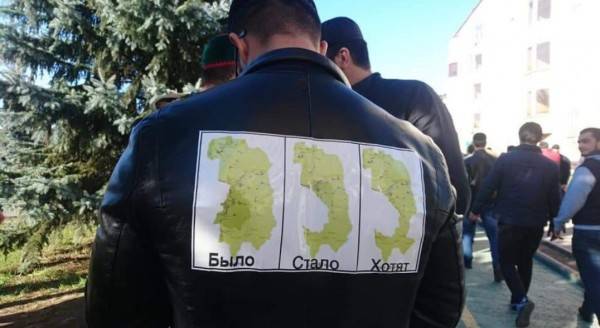 Arguments? No problem. Does Kadyrov in particular and Chechnya as a whole live poorly and without any wells there? No, it is clear that oil does not happen much, but there is a small "BUT". The size of a marine drilling platform.
Even if Ramzan Akhmetovich had pressed a piece of land for himself, and found oil there, what would he do with it? On the scale of the republic? Would you register Cheady gasoline Kadyrov and fuel trucks around the world?
Pipes, I'm sorry, he is unlikely to be allowed to lay his. And the laid ones already belong to those who are not bad at knowing how to extract oil and distill where necessary. And these "who can" is not the administration of the Chechen Republic.
Yes, a little more money in the budget from the sale of oil ... Oh, well, let's not make laugh dear readers. There and so everything is in order. You can even envy how they live in the most subsidized region of the Russian Federation.
However, there is a moment that really strains its similarity.
Yes, who about what, and we again about Ukraine.
But after all, everything really agrees very much, to our mutual regret!
This incomprehensible cry from one of the deputies, and then no less incomprehensible disassembly. It is clear that when they shout "We were betrayed!", We really need to figure out who betrayed whom. And How.
In the end, it turns out some sheer legwork with shouts and confusion, because it is completely incomprehensible who and how voted. And for what. Someone is "for", someone is "against", someone has spoiled the ballot ... Wow, they are still voting on paper on the Council ...
In general, a complete mess, everyone blames each other, they simultaneously otmazyvatsya themselves, in the end no one understands anything, but everyone does not want to establish borders and transfer the gold-bearing (more precisely, oil-bearing) land to Chechnya.
It is difficult to say for what kind of demarcation Kadyrov needed at all, but it became an armful of carefully collected dried wood, which was left only to be set on fire.
If anyone does not remember, two years ago we argued that if there was a Maidan where, it was in the Caucasus.
The rehearsal is in full swing. Or not a rehearsal ...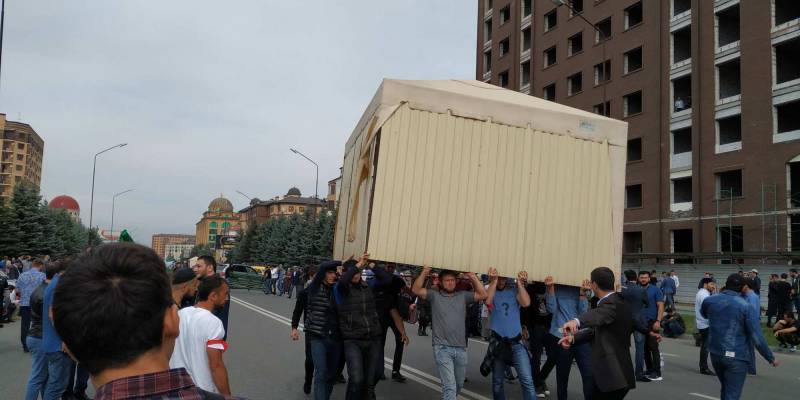 But let's look from the height of the boiler with Ukrainian borscht maidan.
What immediately caught my eye and also did not immediately like it was how the protesters 'supply systems were promptly deployed. In social networks, and then in the media, they began to cheerfully talk about the fact that the protesters were brought warm clothes, raincoats, and began to feed.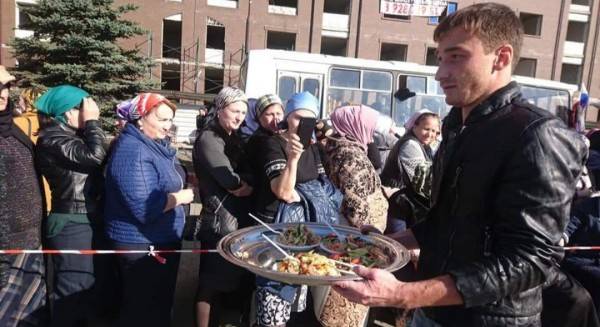 In the pictures, I'm sorry, not grandmothers with pies. Here is a photo that has already flown to Germany. The man is not at all pies. And the food, which requires cooking and time, and a fairly large set of products. Cereals, meat, vegetables - this is not a pie with potatoes.
Tents, sheds - this is what we all went through. As well as the boiler feed.
But there is one more thing. This is a mass protest. Here is a picture from the roof of one of the houses.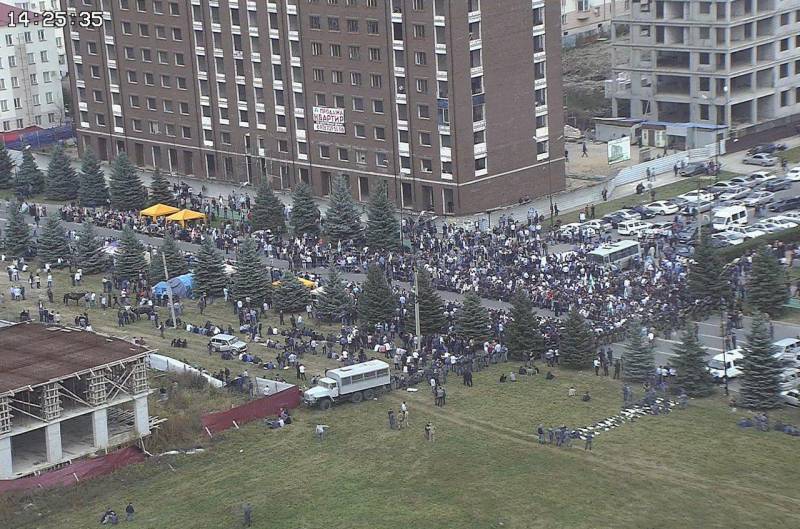 According to our estimates, there are thousands of people in 2-3 Square. Not more. But, according to 2018, 8 771 lives in the capital of Ingushetia, the city of Magas. Nearly half went out to protest? It is doubtful.
But we didn't doubt with our Ukrainian experience that we had a "friendship bus". Or by train. But somehow, it is not so important.
It is important that people had something to deliver to the square, water, food and cooking places, tents, awnings, etc. were prepared.
Someone brought all this and cooked it.
Moreover. And let us remember how amicably and in what quantities opponents of pension robbery gathered in Russia. We saw photos from millions of cities where 4-5 thousands gathered. That is less than 1%. And here? And here patriotic Ingush managed to organize everything?
It smells like a maid of spirit, oh, how it smells ...
And, by the way, if you believe the cries from social networks, the people are so weak.
"Attention, everyone! Riot police are driving us!" They wrote about it. But in the end, immediately there were those who wanted, from among the young and stupid, to arm themselves with batons, put on masks (and, like in a revolution, hydrances without masks!) And get ready to repel the onslaught of riot police.
Well, we are aware of how such youthful games end ...
But it is similar, is not it?
Immediately the "activists" drew up, who began by all possible means to collect money for food for the protesters. Despite what they wrote, how wonderful it is with food. Well, this, apparently, was overdone by those who wanted to earn extra money by not entirely honest methods.
Constantly throwing firewood in the light with the help of various (sometimes frankly stupid) rumors. People are kept in good shape, so to speak.
Another nuance. The voting results of the deputies were never made public. We do not take into account the statements that were made by the deputies themselves, they somehow also have no faith. For all voted against.
However, in the appeals of the opposition to various federal instances (this way, more than a dozen appeals have already been rolled forward), the clause on falsification does not appear in all. Which leads to certain thoughts.
Including the opposition itself.
Here it is simply necessary to voice the names of those who are behind these protests. You understand that the driving force has names and surnames. Verified
Mainly so that you, dear readers, do not suddenly have the illusion that patriots gathered in Magas in front of the television station who do not want to give up even a piece of Ingush land.
Sarazhdin Sultygov.
"Human Rights Defender", the organizer of illegal actions. In quotes, because he was repeatedly brought to trial in Kabardino-Balkaria for inciting ethnic hatred.
In 2015, Mr. Ruslan Sultygov, the son of Saradzhin, was killed in Syria. But not ISIS terrorists *, as we would like, but fighters of the Syrian army.
It's funny, but while the elder Sultygov fought for human rights and even received awards for it, the son trampled on these rights, killing people with the banner of frantic terrorists. And Zhanna, Sultygov's daughter, was detained at the border. The girl just wanted to become a sexy sister for the IG fighters.
Sultygov is very fond of Novaya Gazeta. No comments, and so everything is clear.
Issa Kodzoev.
This is a dissident with experience, because for the first time he still had friction for anti-Soviet propaganda in the liberal 1963 year. This is how it was necessary to try to Khrushchev thaw?
One son of Kodzoev is sitting for the murder of five policemen as part of an illegal armed group (gang) and will sit for a very long time, since he received a strict regime 24. The second was less fortunate, because our fighters in Beslan nailed him during those events.
Lovely family, is not it?
Magomed Mutsolgov, Murat Yandiev, Idris Abadiyev.
Grantoyedy defenders, in fact - provocateurs. However, this applies to Yandiyev to a lesser extent, since Murat Yandiyev was detained by law enforcement officers along with the cell of the terrorist Hizbut-Tahrir al Islami. * And in the near future he is not in a mood for protests.
We think it is enough that a certain impression is created about those who stand behind the protests and shouts, behind the bottles flying from the crowd.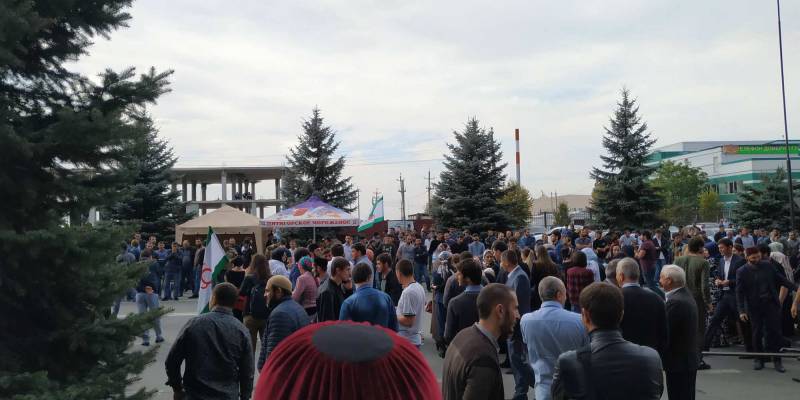 Again, we draw your attention to the complete absence of pensioners, women (well, drove), youth. Mostly strong such men. Ukraine...
We respect the actions of Comrade Major General Yevkurov. It could have been a different situation, but the head of Ingushetia allowed to hold a rally right up to October 15. When something will become clear and understandable.
It will be interesting to see how much Magas Maidan will remain by the end of the week.
The only thing that really bothers us is that, according to the Kiev script, there is a further sacred sacrifice on the scene.
The provocation is simply necessary now, as a result of which blood is shed A shot in the head by all means from a Russian sniper, an officer of the FSB or someone else in that spirit.
What will happen next - we have already passed. But there is no other way, the further to the cold, the less patriotism will be. So, it will be necessary to warm up again. Better than blood and blood provocations have not yet come up with anything, and are unlikely to be, because there is no need.
And the last thing we wanted to convey to readers.
Velvet Revolution (Czechoslovakia): November 17 1989 - December 29 1989
Rose Revolution (Georgia): November 2 2003 - November 23 2003
Orange Revolution (Ukraine): November 22 2004 - January 23 2005
Revolution of dignity (Ukraine): November 21 2013 - February 27 2014
Does everyone burn for winter, or is it a coincidence according to the scenario?
* Banned groups in the Russian Federation.