Information Agency
TASS
referring to the "Military Industrial Company" reports that the "Boomerang" armored personnel carrier can be equipped with a combat remotely controlled module "Dagger". This is a combat module with weapons such as the 57-mm cannon and the 9M120 "Attack" anti-tank missiles. The versatility of the Dagger combat module allows it to be used not only against ground targets, but also against low-flying targets, such as a drone or a helicopter.
From the statement "MIC":
In terms of payload and power availability, the Boomerang provides for the installation of the Dagger combat module.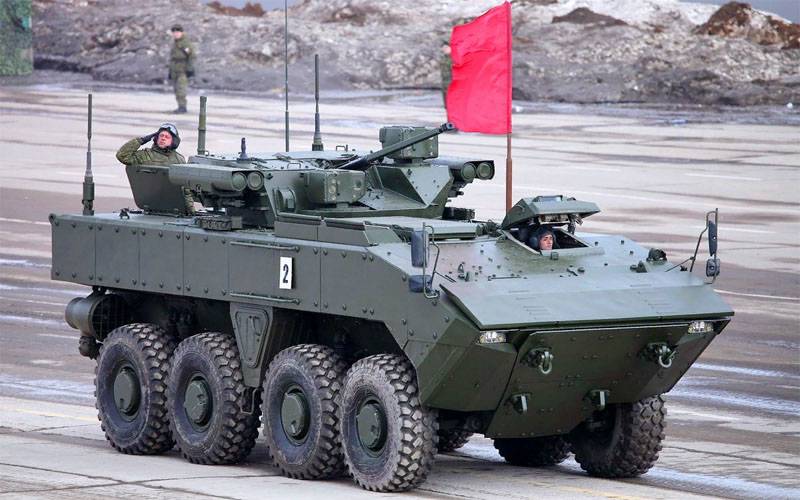 "Boomerang" has a wheel platform (8x8). Able to overcome water obstacles. On its basis, as the manufacturer notes, it is possible to create reconnaissance vehicles, armored ambulances and other means demanded by the troops.
The staffing of the Boomerang provides for the remotely controlled Boomerang-BM module. The equipment of this combat module: 30-mm gun 2А42 with ammunition in 500 shells; PKTM machine gun of caliber 7,62 mm (ammunition - 2 thousand cartridges); two dual launchers ATGM "Cornet". Movement "Boomerang-BM" is carried out by electric motors, which are controlled by a computer program. The module's ammunition is isolated from the airborne troops and the crew, which makes it possible to increase security in combat conditions.
Boomerang shipments to the troops are scheduled for 2019 year.