In 2017, the UK government decided to move the British submarine fleet, including with nuclear weapons, to the Clyde military base in Scotland. In the light of Brexit, this could be a lever of pressure on Scotland, which thirsts for independence.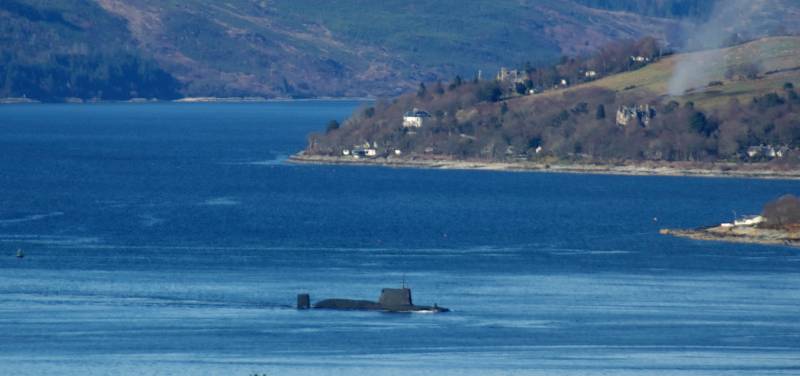 Britain has three naval bases in Clyde, Devonport and Portsmouth, each with submarines. A distinctive feature of Clyde is that it is a haven for submarines equipped with Trident nuclear missiles.
According to David Mandell, Minister for Scotland, "by 2020, the entire submarine fleet of the United Kingdom will be based in Faslane. This will strengthen the vital role of Scotland in protecting our country, and also guarantees qualified jobs for many years. "
However, according to a retired naval officer
fleet
Michael Kodner, the true reason for moving the entire submarine fleet to one base is not in good intentions at all.
First of all, this is a peculiar manifestation of concern for the Scots: they say, we will not give you any offense, and in case anything happens, submarines will cover you. British politicians hope that this will make the Scots more loyal to the central government if the question of a new referendum on independence arises.
Secondly, if Scotland wants to withdraw from the United Kingdom, the naval base will slow down this process. We'll have to negotiate, discuss, and all this will gain time for London to prevent the loss of the whole region.
Thirdly, the Clyde base at Faslane can also become a deterrent to the rebellious Scots. A year ago, Prime Minister Theresa May said that, if necessary, she would allow a nuclear strike that would kill people, since "our enemies need to know that we will be ready for this." Who knows how the government will behave if Scotland suddenly becomes an "enemy" too!
In view of these circumstances, representatives of the Scottish National Party raise the issue of moving the military base to some other point in order to untie their hands. But so far this topic is ignored in parliament to become a trump card in case of attempts by Scotland to secede.