As you know, the whole mess that is happening in the world is only a preparation for the coming confrontation between the United States and China. We are probably not very pleased to realize this. We are accustomed to, that Russia is always on the first roles. But this time, everything is different: the attack of the Americans against Russia is only an attempt by Washington to clear the field of the coming battle.
Faced with uncontrolled and extremely serious industrial growth in China, the Americans simply had to somehow respond to this. If this is not done, then in ten to twenty years, China will calmly, without much haste and dust, replace America as a world military and political hegemon, with all the ensuing consequences. And most importantly, the Chinese yuan will replace the dollar as the world's reserve currency, which will be a real catastrophe for the United States.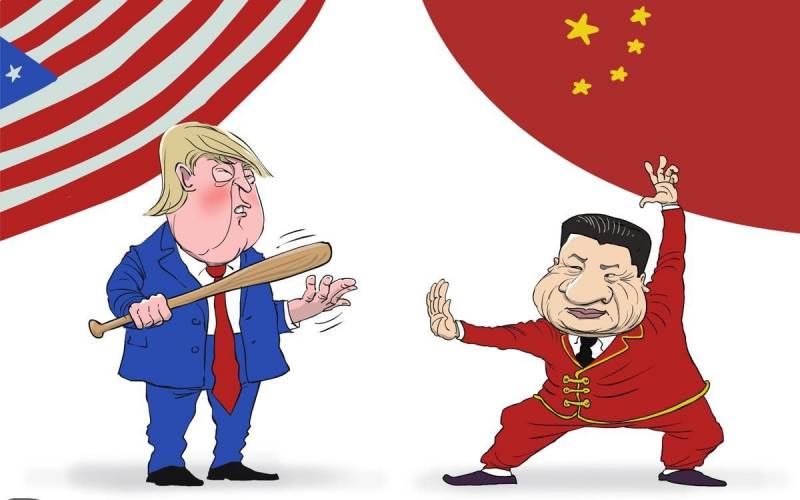 It so happens that, using the dollar as an example, we observe an interesting phenomenon that had never been encountered in the world economy before and has not yet received a proper assessment. The fact is that due to a number of economic, political and military reasons, the US dollar has ceased to be a simple means of calculation. Moreover, it has become even more than a means of accumulation for individuals, companies and states. No, everything is much more interesting: the dollar has become America's main export commodity. And encroachment on this status automatically means a catastrophe for the USA.
Of course, America has long been predicted of a collapse associated with the collapse of the debt bubble, then with the devaluation of the dollar. So long ago and so often that it became already something of a casual excuse to bite for people who are not deprived of a sense of humor. All this is so, all right, but ...
The most surprising thing in the current situation (and this has never happened before) is that the commodity content of the dollar now largely depends on China and its industry. If we assume that relations between the countries will worsen somehow very sharply, then America will face a real commodity hunger, since much of the products sold in stores in Los Angeles and New York flow into them directly from China. The industry of America itself is unlikely to be able to compensate for such catastrophic losses in a relatively short time, and the United States in this case expects long-term fever of queues, deficits, black market and price rises, ultimately leading to a steep inflationary turn. Further, as we understand (and most likely, in parallel with this), that same debt bubble will start to collapse, banks and states will refuse from the dollar as a reserve currency, America will find it harder and harder to purchase the raw materials and equipment it needs industry), savings across the world will dramatically shift to gold and other precious metals, and so on.
Why is this not happening now? Everything is quite simple: China is still very dependent on access to large markets, since domestic consumption is not able to digest all the products manufactured by Chinese factories. A sharp refusal to export means the actual collapse of Chinese industry with difficult predictable consequences for the Chinese Communist Party and the Celestial Empire itself. But the idea of ​​a stronger grip on America and drowning the cautious Chinese together is somehow not inspiring. Moreover, they have a more promising option ...
China is making tremendous efforts to develop the domestic market. Measures to stimulate employment include many areas of activity, ranging from supporting crafts and ending with the incredible pace of construction of high-speed railways, other transport, industrial and energy infrastructure. It is no coincidence and some promising solutions: in particular, the idea of ​​building a CR929 long-range aircraft jointly with Russia is not just an economic project, but also an attempt to protect itself from civilian sanctions
aviation
.
In general, it can be assumed with a certain degree of confidence that in a decade China will be ready for a much more serious confrontation with the United States, and even a complete breakdown in relations with loss of access to the markets of the United States, the European Union and Japan will not kill the Chinese economy. So, the Americans need to act now, because they also need time to prepare.
How America is dependent on the Chinese "assembly shop" has already been written above. Can it get rid of this dependence, at least in its most critical forms? Yes, definitely. And Trump chose for this the easiest, low-cost, effective way - duties. By making the import of Chinese goods to the US less profitable, it stimulates both its own American industry to produce some goods that were previously unprofitable to produce due to the high competition of the Chinese and other market participants to transfer a significant part of their production from China. And this signal seems to have been heard - in the US, it seems, an economic boom is beginning, and some manufacturers are beginning to transfer their production from China to Vietnam and other countries of Southeast Asia.
And where is Russia? She, it seems, did not encroach on the economic power of the United States, why her, pardon me, yes, about the Crimea? But do not rush to conclusions, Russia in all this
stories
plays quite an important role.
The fact is that the United States can learn from their mistakes. Once they already had a similar experience: in times of confrontation with the USSR, someone in the United States decided that it would be nice to make a good weight out of China on the legs of Moscow. There was a thaw in US-China relations, benefits for entering the American market, unhindered accession to the WTO, permission for American companies to invest in the PRC, etc. Together with quite effective reforms of Deng Xiaoping, this led to the beginning of explosive growth in China, and now to the necessity of confrontation with the Celestial Empire itself.
Washington understands that it is too dangerous to get involved in a fight with Beijing, leaving Putin's Russia behind, which will immediately start making money on both sides of the conflict and in a couple of decades will turn into the same economic challenge as today's China. This means that it is desirable to break Russia in order to untie its hands and cover its back.
But, as written above, the time factor plays a big role. The attack on China cannot be postponed indefinitely, because it can also be significantly strengthened, and America itself needs several years to deploy its industry and fill the dollar with US (or at least Vietnamese, Indonesian) production.
And with the arrival of Trump the fight began. So far, of course, in the economic field. However, a recent event shows that Americans are getting involved in a fight more and more seriously, already at the political level. This, of course, is about the sanctions against the Central Military Council of China, imposed for the acquisition of the Russian Su-35 and the S-400. Although the official statement of the press service of the US Treasury said that the final recipient of the sanctions is Russia, this should not be misleading: the backdating sanctions for last year's purchases are nothing but an extension of the front of the US-China confrontation.
It is interesting in this sense, and yesterday's statement by US Vice President Mike Pence. He, I remind you, said that China by its actions overshadowed Russian attempts to interfere in the American elections. Yes, at first glance it may seem, this is just an attempt to remove the accusations of "pro-Russian" from Trump, or rather, not to remove them, but to distract opponents and voters with a new goal.
But the fact is that this is a very serious accusation, especially against the background of the hysteria that unfolded in the United States about the so-called "Russian intervention". And if they respond to it accordingly, then it will not be so important what exactly Mike Pence meant.
If this is really a preparation for the transfer of the conflict to a new stage, then Russia almost waited for a critical change in the geopolitical alignment of forces on the "big chessboard". At a minimum, this will mean that in the event of its transition to more active actions (in the Ukrainian direction, for example), it will no longer be all alone, and the tandem Russia-China will stand together against American aggression.
Well, let us wait until China is drawn into a confrontation with the United States will become completely irreversible.