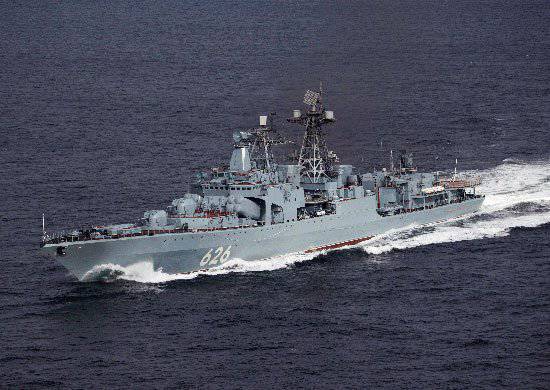 Today, a large anti-submarine ship (BOD) of the North
fleet
(SF) "Vice Admiral Kulakov" completed escorting the second caravan of ships from the Arabian Sea through the Gulf of Aden to a designated point in the Red Sea. The second caravan included merchant ships under the flags of Malta and Liberia.
On May 25, the BOD Vice Admiral Kulakov crew will have to replenish the supplies of everything needed from the tanker Ivan Bubnov. After that, in the planned area of ​​the Red Sea, a new caravan of ships will be formed for pilotage along the "safety corridor" in the opposite direction, through the water area of ​​the Gulf of Aden.
The material and technical part of the large anti-submarine ship of the Federation Council "Vice-Admiral Kulakov" is in good repair and is functioning normally. The crew of the Russian BOD is healthy and ready to carry out the tasks assigned to ensure the safety of civilian shipping in its designated maritime zone.
BOD of the Northern Fleet "Vice Admiral Kulakov" left the main base of the Northern Fleet 6 April. During his campaign, he already left astern more than 9000 nautical miles. In April, the BOD Vice Admiral Kulakov made a business call at the port of the Court (Greece), where the officers of the ship and a group of marines received a unique opportunity to visit the multinational training center for maritime special operations. Severomorsk people shared their experience of anti-piracy with foreign colleagues and conducted a series of practical training sessions. On April 29, as part of a detachment of ships of the Russian Navy formed in the Mediterranean, the BOD Vice Admiral Kulakov passed the Suez Canal and entered the Red Sea, and 14 in May began fulfilling the tasks of protecting civilian shipping in the Gulf of Aden and posting the first caravan ships.