For the first time, high-quality photographs of the MiG-31D high-altitude interceptor, upgraded to use an anti-satellite missile, appeared on the Web.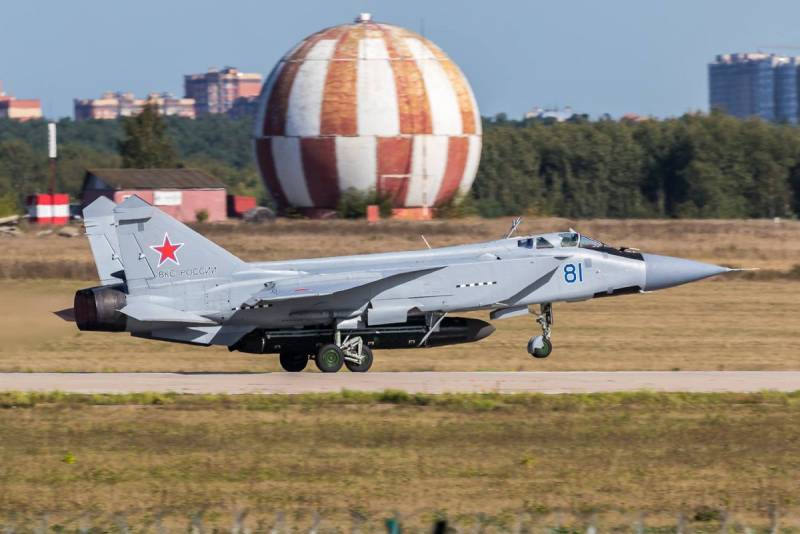 The plane conducts test flights in Zhukovsky near Moscow with a new-type anti-satellite missile suspended under the fuselage. The upgraded vehicle with the tail number "81" is being tested in Zhukovsky from the 2016 of the year, but with the model of the rocket it got into the camera lens only now, reports
bmpd
.
The development of the aviation complex was carried out by designers of NPKB Almaz back in the 1980s.
Aviation
the space defense complex received the designation 30P6 "Contact". A 31M07 anti-satellite missile, developed by the Fakel ICB, was suspended from the carrier (MiG-79D, "Type 6").
As a means of target designation, "Contact" was supposed to use the radar-optical complex for the recognition of space objects 45Ж6 "Krona", located at the Sary-Shagan test site.
Aircraft revision was completed in 1987 year. Their flight tests were carried out by test pilots of the design bureau in Zhukovsky. The test program lasted several years.
However, the work was not brought to the end - with the collapse of the USSR, the development stopped. Two interceptors built with this topic with onboard numbers "071" and "072" remained on the territory of Kazakhstan.
According to some reports, at the end of 1980-x - the beginning of 1990, work began on the creation of a modified anti-satellite missile with an index of 95М6.
In August, 2009, then-Air Force commander Alexander Zelin, announced that the "Contact" system is being reanimated in Russia to solve "the same tasks".