The Russian Kronstadt group, which develops unmanned aerial vehicles, presented a prototype of the Orion-E medium-range drone, reports Popular Mechanics, citing Jane's publication.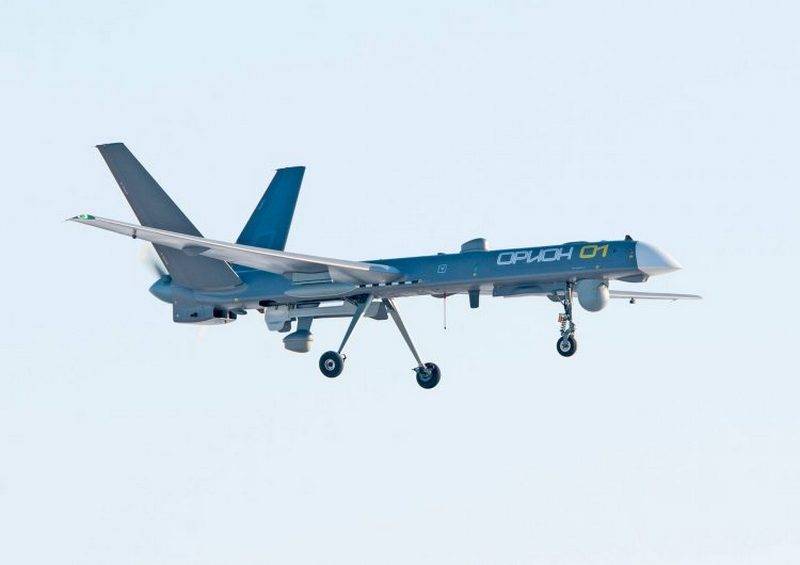 According to published data, the Orion-E UAV, with a take-off weight of one ton, can carry a payload of 200 kg. According to the publication, on the drone used new 50-kilogram missiles of its own design "Kronstadt". In one load, the UAV can carry either four 50-kg missiles or two 100-kg ammunition of a different format. At the same time, data on proprietary missiles is not disclosed anywhere. In the basic configuration, the Orion-E with one 50-kg rocket can be airborne for one day at an altitude of 7,5 thousands of meters. In this case, the range is 250 kilometers.
The surveillance system installed on the Orion-E consists of two thermal imagers, a wide-angle television camera, and a laser rangefinder. In addition, it is possible to install other sensors, including an electronic reconnaissance system, a high-resolution camera or a radar. The design of the drone is collapsible, it is transported together with the technical support systems in the container.
Also, according to the publication, the Kronstadt group is developing a new version of the Orion-2 UAV with a 5 mass of five tons and a flight height of up to 12 thousand meters.